A charcoal smoker is sometimes referred to as a smoker grill or a water smoker. A charcoal smoker is a device that uses low, indirect heat created by burning charcoal to smoke the food over a lengthy period. Although some grilling brands provide equipment that includes a standard grill and a smoker component, the best charcoal smoker is not the same as a charcoal grill.
A charcoal smoker is sometimes referred to as a smoker grill or a water smoker. For a unique smoky taste, you'll also want to add some wood chips. Popular woods include hickory, mesquite, cherry, apple, and alder. Soak the wood chips before using them.
There are four main components of the charcoal smoker.
The firebox
The pan of water
The cooking chamber
The lid
The Firebox
This is where the heat is generated. The firebox is full of coal; a regular 15-pound bag of charcoal may burn for up to 15 hours, which is plenty of time to smoke a brisket. Wood chips will be added to the coal briquettes; these wood chunks will give each batch of meat a different flavor.
The Pan of Water
The water pan (or water chamber) is positioned above the firebox and is about three-quarters full of the cool liquid. This serves as a temperature regulator (you don't want your charcoal smoker to get too hot) and a steam generator, which aids in the cooking process.
The Cooking Chamber
This is where your food will be cooked, usually on grilling grates similar to those found on a regular barbeque grill.
The Lid
A lid sits atop the smoker to keep the smoke in (and the meat from permeating). A vent will be built into the top to allow smoke and steam to escape as needed.
Top 8 Best Offset Charcoal Smoker
To assist you in finding the best charcoal smoker, we looked at various characteristics that distinguish different cooking units. The cooking space, the overall rack area on which you'll be able to lay items, was the first thing we looked at.
We also considered the temperature range, which impacts the types of food you can smoke and the pace at which you can prepare it. Finally, we looked at how portable each charcoal smoker is and how easy it is to use as a beginner or an expert.
8 Best Charcoal Smoker 2021
1)Weber 22-Inch Smokey Mountain Cooker – Best Charcoal Smoker under 200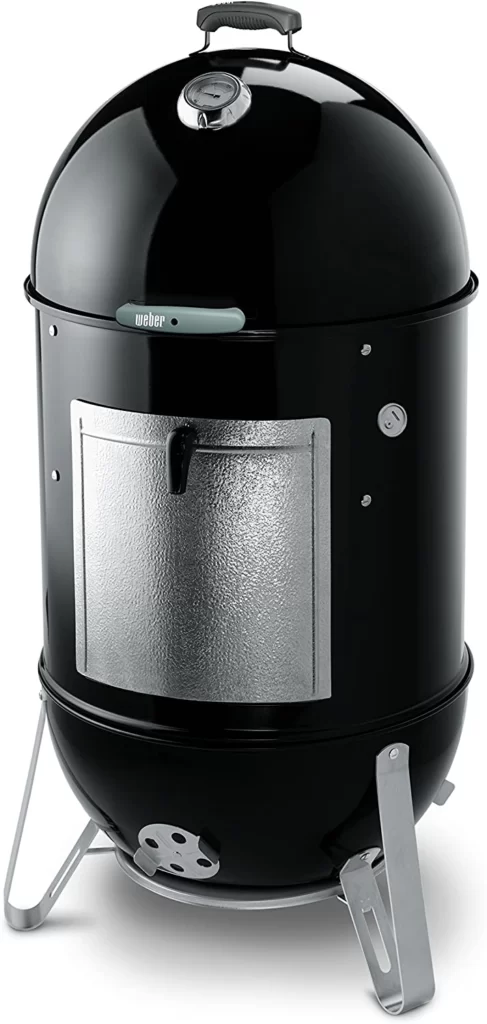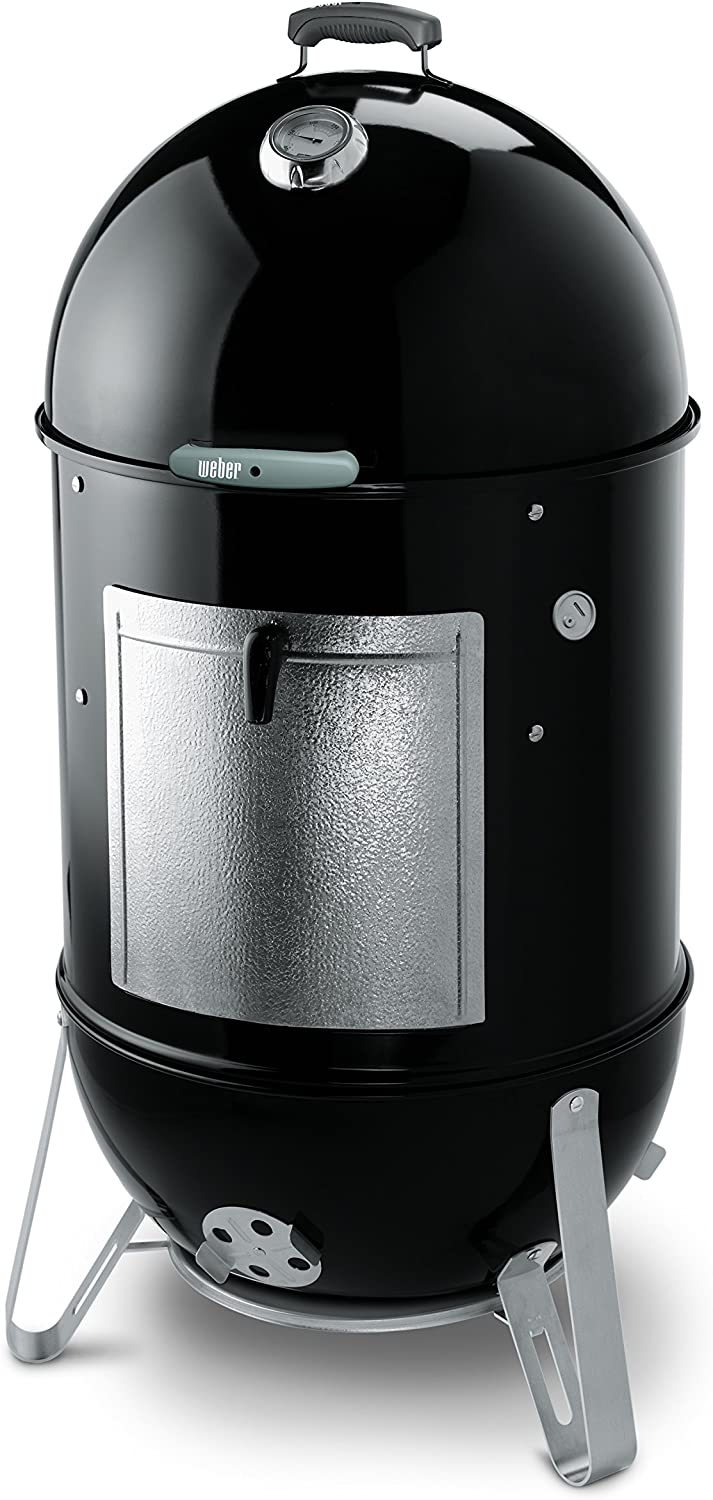 Power Source: Charcoal, Dimensions: 24x23x48.5 inches, Temperature Range: Up to 350 Fo
Weber's wonderfully basic and easy-to-use 22-Inch mountain smoker easily won our Editor's Choice award. With a built-in thermometer on the lid and a set of adjustable dampers that offer you precise control over the quantity of air that enters the charcoal chamber, the smoker makes your life easier.
Users also praised the front door and removable lid for providing easy access to your meal and allowing you to know when it's ready. The porcelain-enameled cover, bowl, and center part maintain heat and are resistant to rusting and peeling.
This smoker has a total cooking space of 726 square inches, but customers have reported that it appears to be significantly larger. Because the two cooking grates allow you to smoke two large items at the same time,
The only change that users would like to see on this smoker is more control over the temperature. The dampers can only move so much air, so letting more air in necessitates opening the smoker door or lid, which allows a lot of smoke out. It is one of the best charcoal smokers under 200.
The dampers on your smoker may easily be adjusted to control the temperature. The big aluminum fuel door on the Smokey Mountain grill allows grill masters to add charcoal conveniently. The fuel door can be removed to make it easier to add charcoal or wood while smoking.
This more giant smoker can handle many roasts for a large family or a backyard barbeque with all of your friends. The extra-large water pan aids in keeping the heat consistent for all-day smoking.
2)Oklahoma Joe's Longhorn Reverse Flow Smoker – Best Offset Charcoal Smoker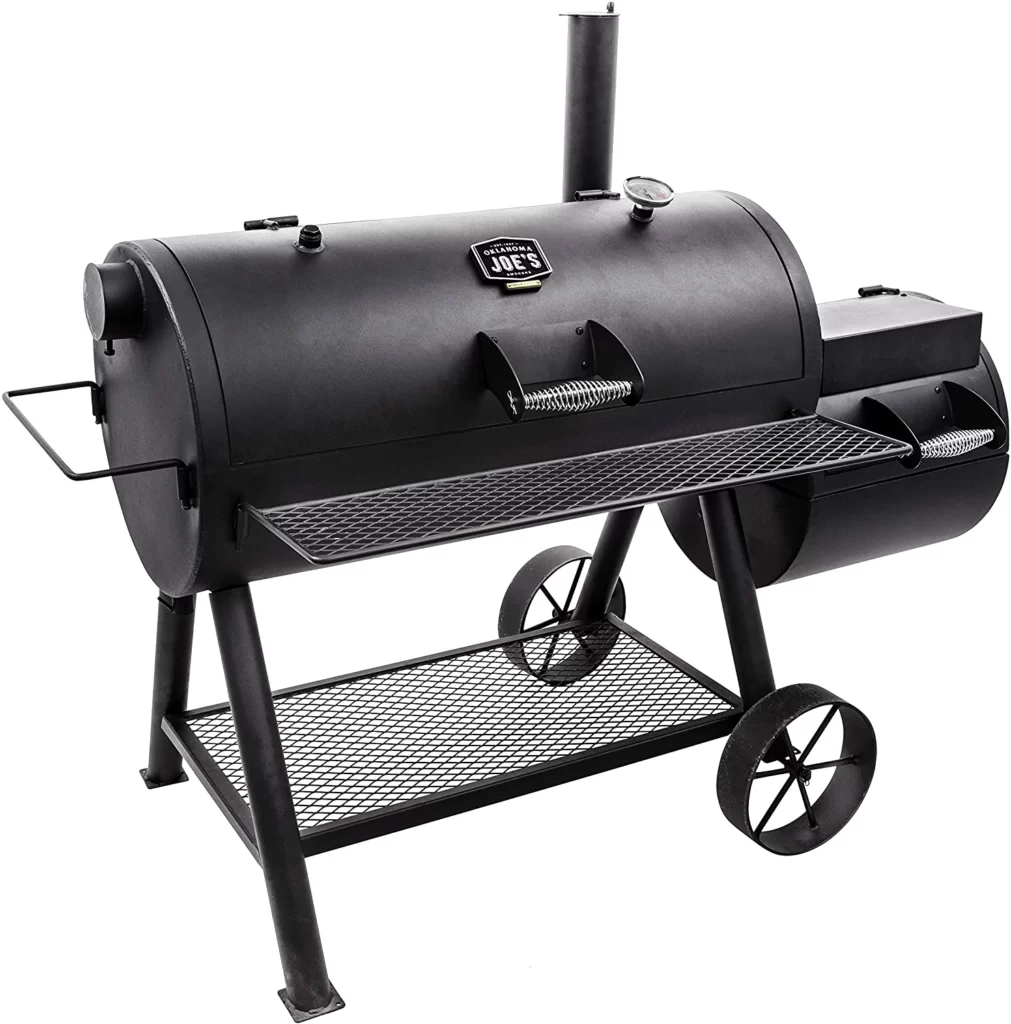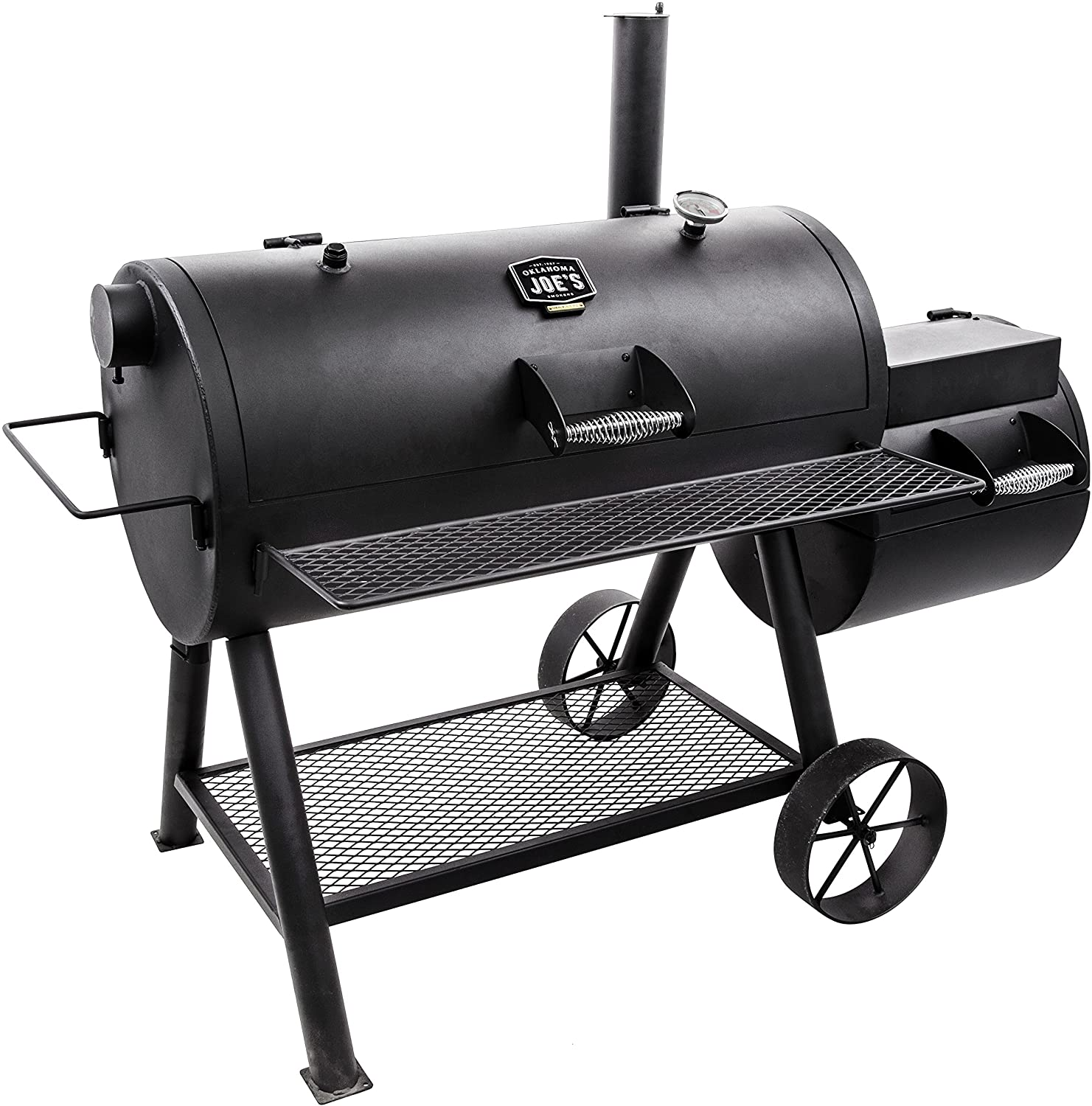 Power Source: Charcoal, Dimensions: 36.5 x 64.3 x 55.5 inches, Weight: 237.7 pound
Oklahoma Joe's longhorn reverse flow smoker is the best offset charcoal smoker currently available in the market. It has two cooking chambers, there is a total of 1,060 square inches of cooking space. A separate firebox connects to the main chamber with a 751 sq. inch porcelain-coated wire cooking grate and a second cooking surface provides an extra 309 sq. inch of cooking space.
The charcoal chamber is also rather huge, holding nearly an entire bag of charcoal, so you won't have to worry about running out of charcoal when smoking for a large gathering. However, because this smoker doesn't have a removable ash pan, cleaning out the chamber after you've finished cooking might be a pain.
The separate firebox chamber distinguishes this as a "smoker" – it's a tiny room connected to the side of the main compartment where you burn your charcoal or wood fuel. Heat, smoke, and flavor (try Char-flavored Broil's wood chips for a delectable treat) from inside the firebox enter the main chamber through a small hole, indirectly cooking your dish to a juicy, Smokey, and tender perfection.
The 3″ professional temperature gauge effortlessly adjusts the heat by raising or lowering the charcoal grate in the firebox. The front shelf runs the width of the principal chamber and is right for meals and utensils. Large backside shelf affords masses of area for charcoal, wood, or different gas types. It also has large, wagon-fashion wheels for smooth mobility.
Warming region on firebox for delivered cooking versatility and plate warming. Professional lid-set up temperature gauge for correct temperature monitoring. Multiple adjustable dampers to adjust warmness and smoke. Cool-contact handles guard your arms against the warmness.
Built with versatility in mind, non-obligatory smokestack places and detachable baffles permit you to pick among opposite go with the drift smoking for extra warmness and smoke, or conventional offset smoking. It is equipped with a huge charcoal basket, you could experience longer chefs with fewer interruptions. Plus, the handy firebox door makes clean-up a breeze.
3)PK Original Outdoor Portable Grill & Cheap Charcoal Smoker Combination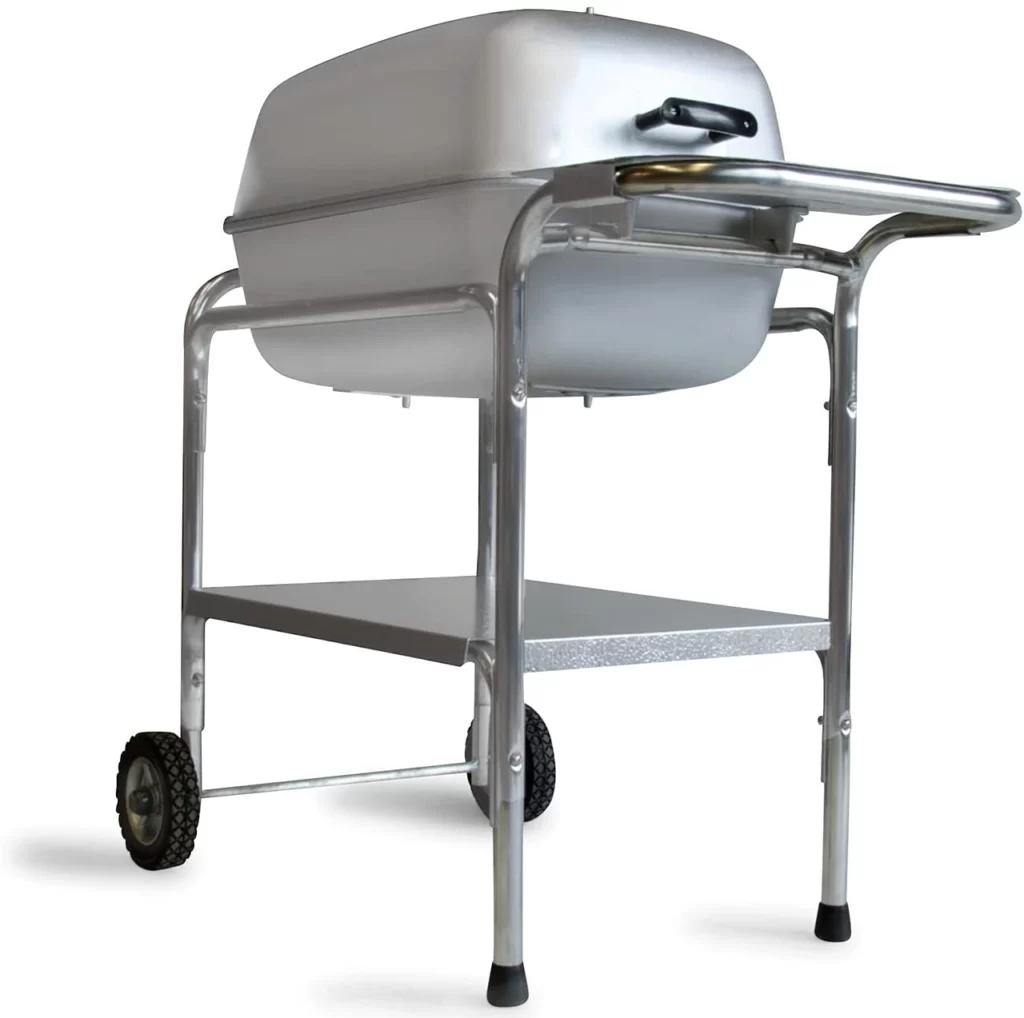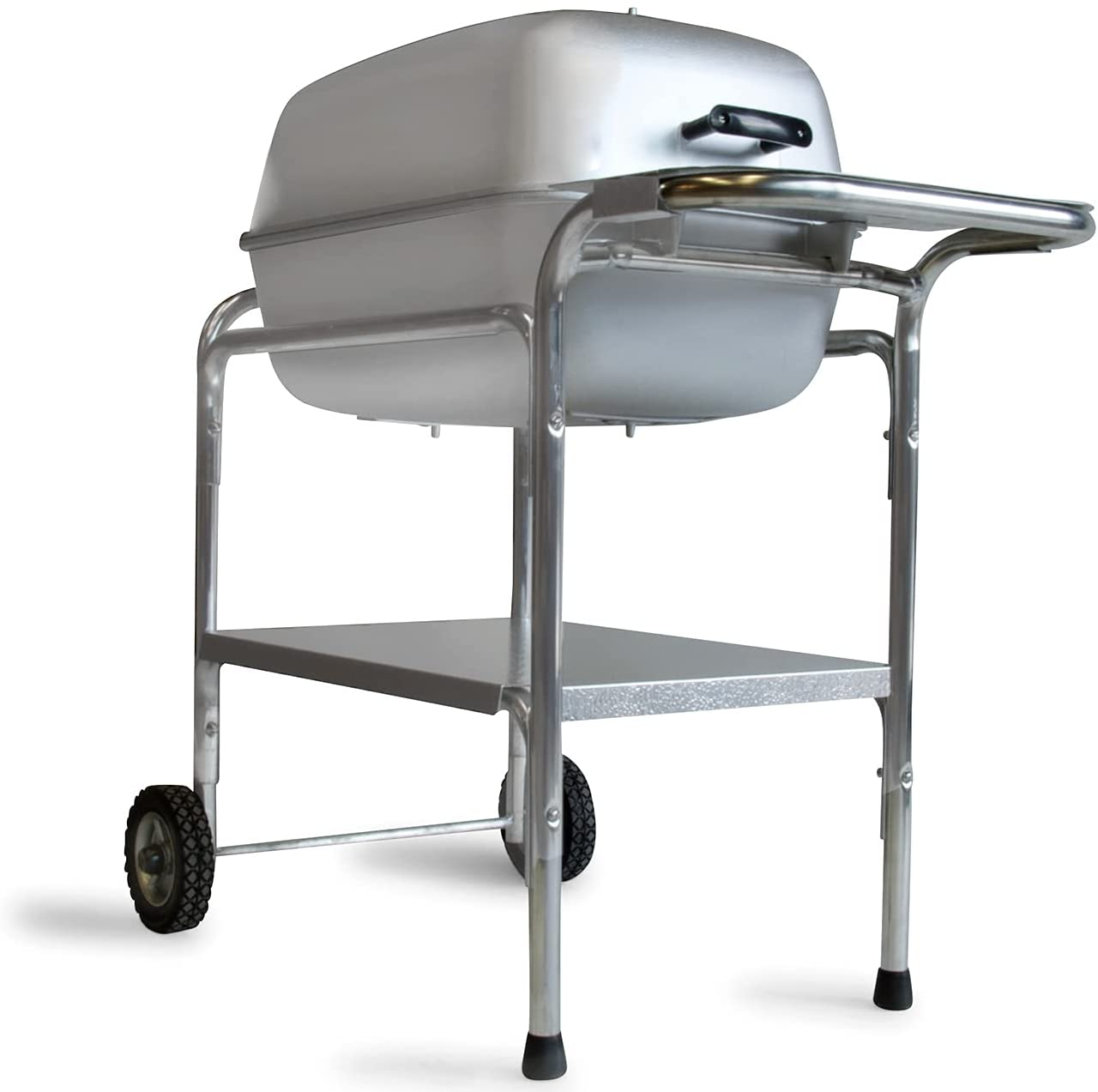 Power Source: Charcoal, Dimensions: 34.7 x 36.4 x 19.5 inches, Weight: 49 pound
PK Grills' charcoal grill with smoker features a unique capsule-shaped structure and a four-vent system that allows you to grill hot and quick or low and slow. Aluminum grills are rust-proof, sturdy, lightweight, and conduct heat four times more efficiently than stainless steel charcoal grills.
For transportation, this outdoor grill and smoker detaches simply from any of the numerous stand options. A fantastic portable barbeque grill for camping, tailgating, parks, vacations, fishing, hunting, cabins, and other outdoor activities.
It is perfectly built to cook with 300 square inches of cooking surface, this outdoor barbeque grill can handle everything from bratwurst to burgers. It's a workspace of the highest quality cooking. It's all about the flavor when it comes to grilling. No other commercially produced fuel can match the natural grilled taste of a charcoal-fired PK Grill and Smoker, including propane gas and pellets.
For greater than 60-years the solid aluminum PK Grill and Smoker has been prevailing the honor of informal grillers, BBQ fanatics and expert chefs through turning out first rate meals and giving proprietors a factor of difference and a departure from the standard fare.
The aluminum grill body shape presents an air tight seal that maximizes temperature manipulation to acquire a consistent temperature at any factor among 180-750F. Aluminum conducts warmth, spreading the warmth at some point of the pill to help in even cooking.
The 4-Point Venting System on this Original PK blended with its precise form is right for each direct and oblique cooking, referred to as 2-Zone Cooking. The 4-factor device presents splendid air float within the grill pill. Keeping steady warmth on a charcoal grill has by no means been easier and makes it the cheap charcoal smoker among its competitors.
4)Masterbuilt Charcoal Bullet Smoker – Master Chef Charcoal Smoker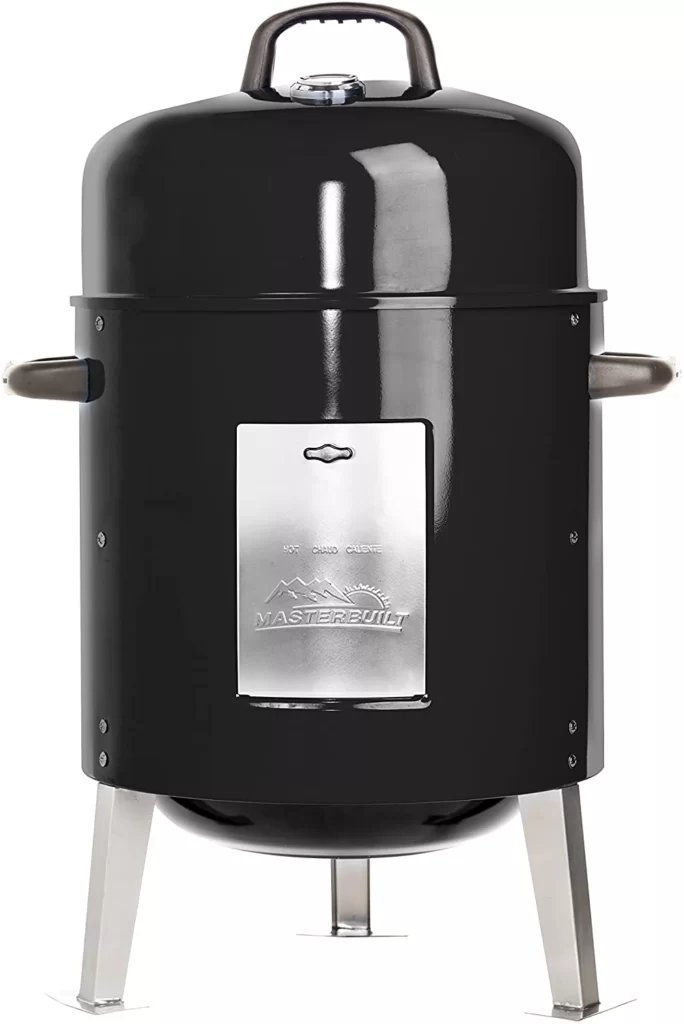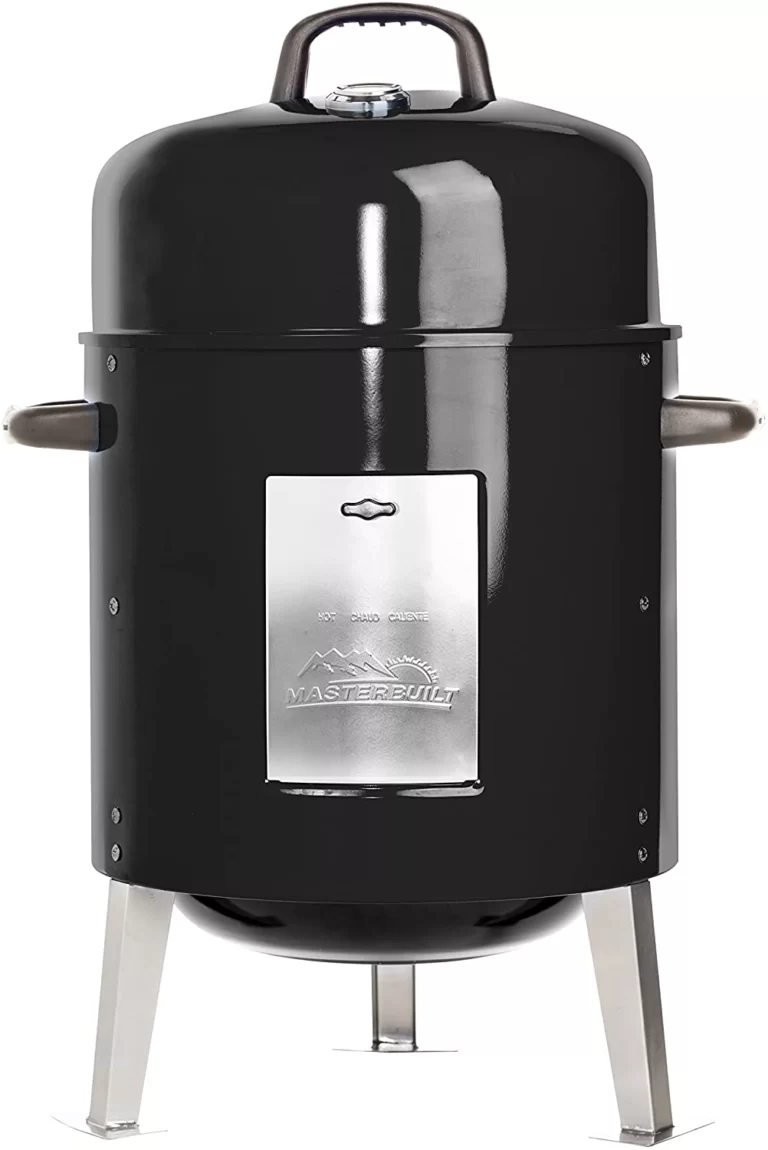 Power Source: Charcoal, Dimensions: 19.13 x 21.65 x 31.49 inches, Temperature Range: Up to 400 Fo
This is another smoking option to consider if you are new to smoking or only smoke a couple of times each month. Masterbuilt charcoal bullet smoker is basically the master chef charcoal smoker. Its cooking area is 395.4 square inches. So it's not a large unit, but if you don't cook for a large group or only smoke once in a while, it's a good size.
For Texas-style BBQ, use a traditional charcoal grill with a side firebox. Heavy-gauge powder-coated steel structure for the grill barrel and side firebox; nonstick cast-iron cooking grates for even heating.
To be honest, the charcoal tray on this smoker needs to be adjusted. Because there is nowhere for the ash to fall, the fire is smothered. Placing a grate in the charcoal pan is a simple remedy. You can drill a hole at the bottom of the charcoal pan if you still need extra airflow.
There are two porcelain-coated smoking racks in this set. Temperature readings are accurate thanks to the built-in lid thermometer. You'll need to obtain a thermometer other than the one that came with the device, but this is typical practice even if you bought a high-end smoker.
Water bowl and a porcelain-coated charcoal pan. The Masterbuilt Charcoal Smoker is ideal for cooking in the backyard, tailgating, or camping. Masterbuilt makes it simple to smoke foods at home or on the go for your family and friends.
According to users, the smoke port between the two chambers is also broad enough that it never gets blocked. Keep in mind, though, that the strong steel structure adds weight — this smoker is rather substantial for its size, weighing 146 pounds, and you won't want to move it around much.
5)Char-Broil Vertical Charcoal Smoker – Best Vertical Offset Charcoal Smoker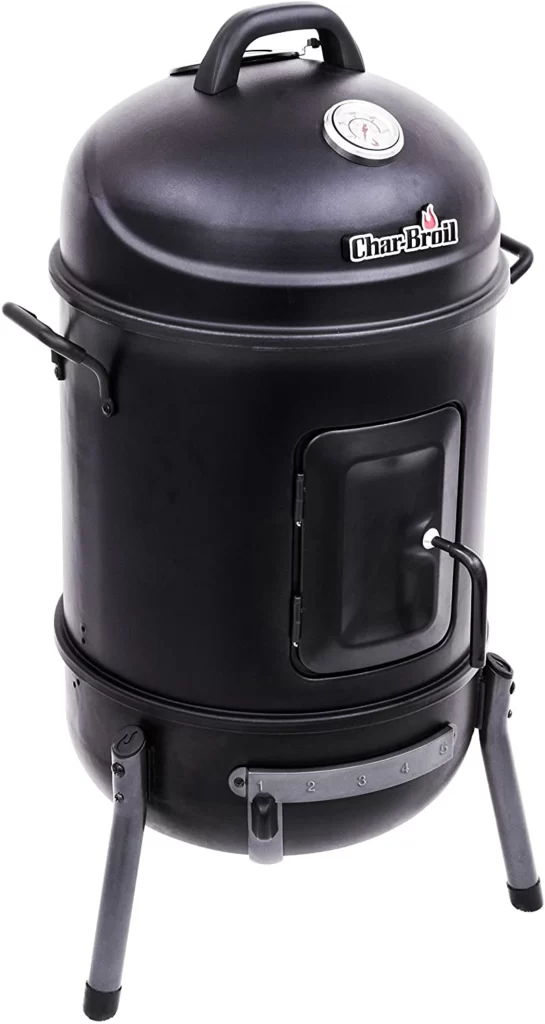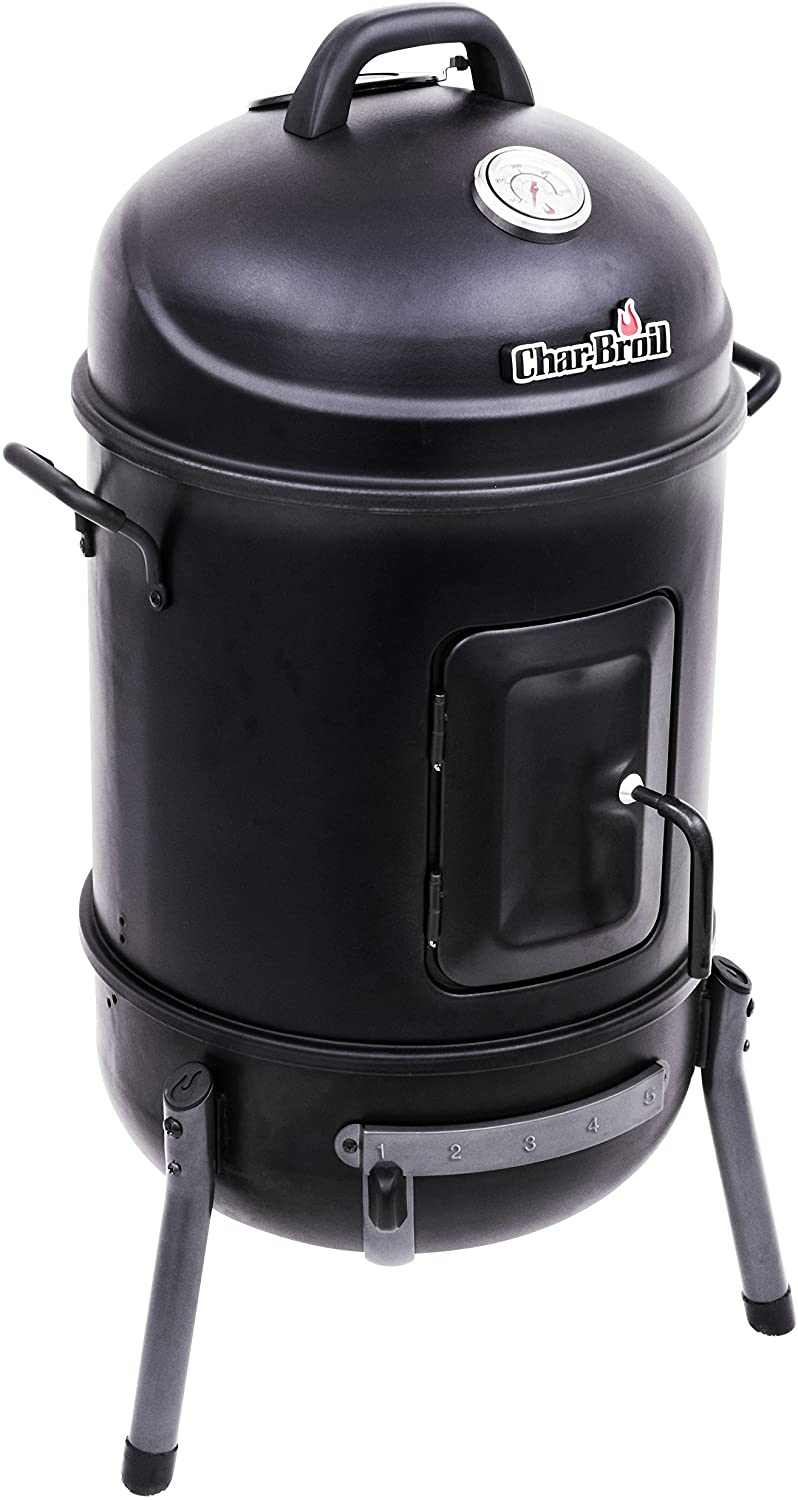 Power Source: Charcoal, Dimensions: 21.5 x 20.8 x 39 inches, Weight: 30 pound
Char-Broil is one of the best vertical offset charcoal smokers available on market. This small smoker has two racks and 365 square inches of cooking space. Like the Cuisinart smoker, this machine has the potential to be a superb smoker with a few tweaks.
Just a few of the affordable and easy upgrades that can be made to this "good value" smoker to turn it into one that you will use on a regular basis include adding a door seal, adding more racks, and replacing this same charcoal tray with a veggie roaster which allows for even more incredible ventilation.
The front doors on this device are more user-friendly than those on the top-loading models, and the pull-out ash collecting mechanism makes cleaning a snap. With this machine, it is possible to smoke both pieces and chips at the same time. Although this little gadget can smoke a log, doing so will be a problem.
Because of its small footprint, this smoker is ideal for those who don't have much room. A fantastic place to start for novices is with this smoker. Your hands will be protected as you retain a firm hold on the grill lid thanks to the cool-touch design of its handle.
As soon as you're through cooking, a convenient pull-out drawer gathers the ash for quick and simple cleanup. A slide-in water pan with a porcelain coating that is easy to refill. Users can quickly add charcoal and discharge ashes thanks to the removable charcoal drawers. For long-term durability, there's a double bottom.
Users praised the smoker's heavy-duty steel construction, which set it apart from similarly priced Dyna-Glo offset barrel smokers. The solid steel feels quite sturdy and aids with temperature control, which is especially important if you want to use this smoker with wood rather than charcoal at any time.
6)Cuisinart COS-118 Vertical 18″ Best Charcoal Smoker Under 500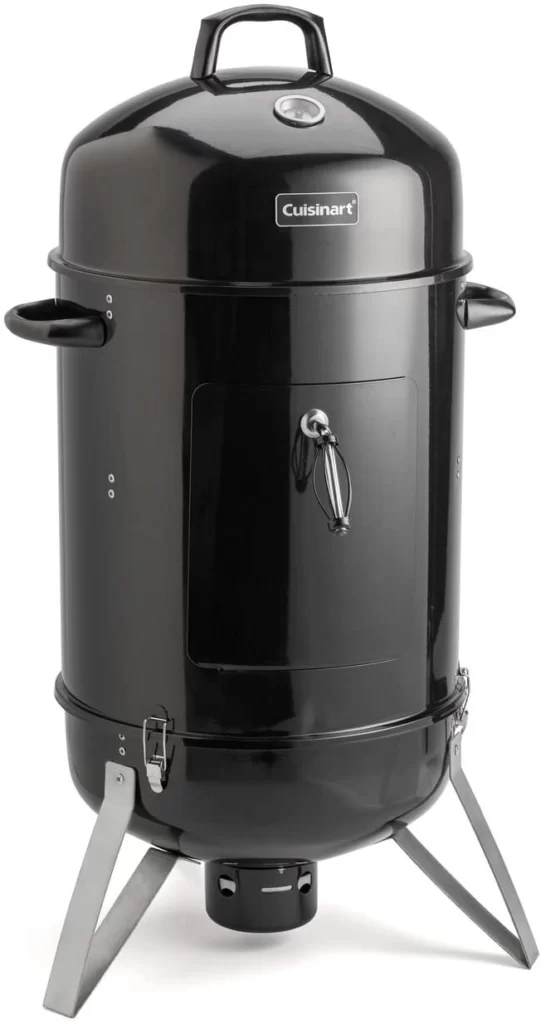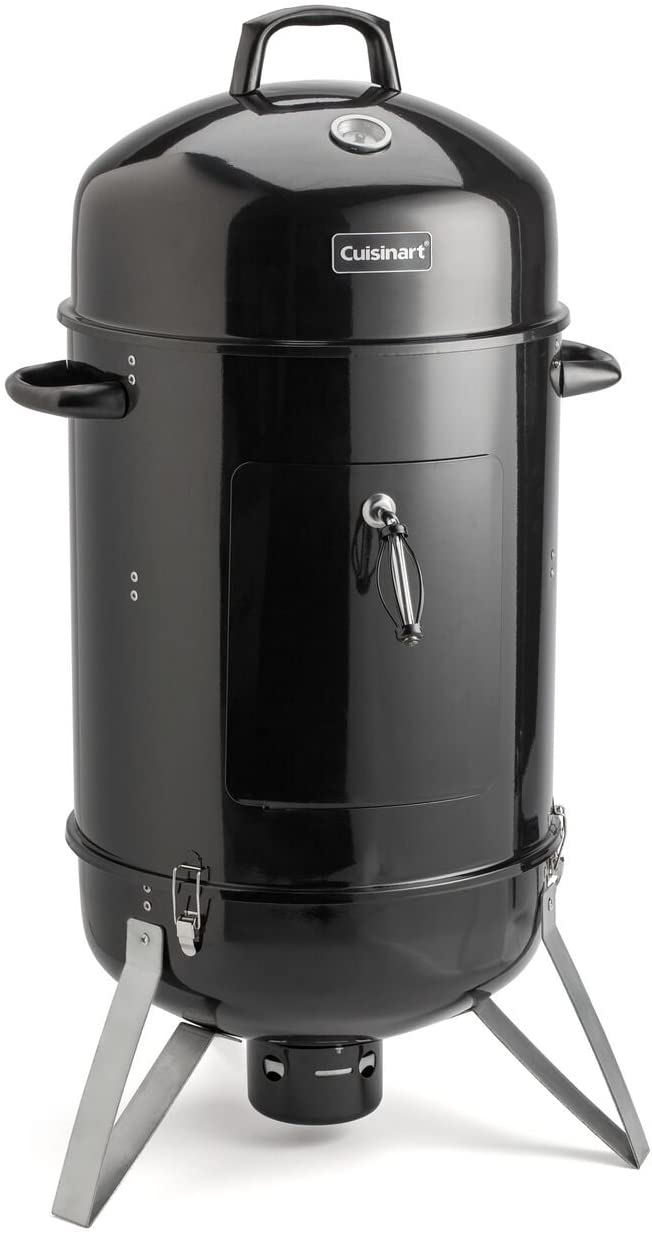 Power Source: Charcoal, Dimensions: 22 x 24 x 43 inches, Temperature Range: 180–475°F
Cuisinart's 18-inch water smoker is a versatile and best charcoal smoker under 500 that may be used for a multitude of purposes. The two built-in grates provide a total cooking area of 510 square inches. That makes it an admirable choice for serving a small family. Furthermore, the smoker has lots of vertical space for cooking big things like chicken and turkey.
According to users, the thick steel casing and porcelain water bowl worked together to maintain the temperature within the smoker relatively consistently. Furthermore, the two air vents and removable cooking cover make it simple to fine-tune the temperature.
This smoker's water smoker design allows it to work at a higher temperature than many of its competitors. It's possible to get this smoker down to barely 180 degrees when the pan is filled with water, and all of the vents are open. On the other hand, you can empty the pan and close the vents to raise the temperature to 475 degrees.
It's simpler than ever to manipulate the quantity of warmth and smoke inside the Cuisinart 18-inch Charcoal Smoker. The vents may be opened or closed to be able to manipulate the quantity of warmth and smoke leaving the chamber. Lift the lid for clean get right of entry to meals as they smoke. It's easy to keep and clean-up is clean.
It consists of metal twine racks that may be placed inside the 3.45 square foot smoking chamber. There's sufficient room to smoke fish, meats, vegetables, or maybe an entire chicken. It's a fantastic addition to a doors grill kitchen and perfect for making your visitors a deliciously smoked meal.
7)Old Smokey Charcoal Grill #22 – Best Charcoal Smoker for Beginners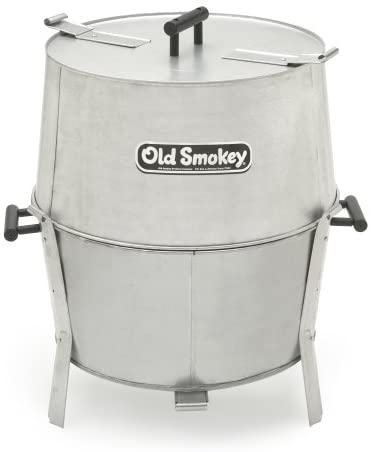 Power Source: Charcoal, Dimensions: 22 x 22 x 28 inches, Weight: 19 pound
This grill excellently exemplifies the saying, "Don't judge a book by its cover" which makes it the best Charcoal Smoker for Beginners. Let's face it; the old smoky appears to be a bit frail but it can cook as per your expectations. Initially, only known in the southern states, the Old Smokey is steadily creating a name for itself in other parts of the country because of its meager cost and remarkable outcomes.
Aluminized steel is used to construct this unit. As a result, it's light and easy to move. It is, nonetheless, not insignificant. Because this is a 22-inch grill, you'll need to ensure you have a place to store it when it's not in use if you plan to take it on the road.
This is referred to as a barbecue because that is what it is meant to be used for: grilling food. It may, however, have been used as a smoker if the indirect method is taken into consideration. With the high dome cover, you can cook beer container chicken or gigantic hog shoulders in a short amount of time.
Because the grill grates on this model is not movable, replenishing it while using it as a smoker might be a hassle. It will take a lot of effort to raise the whole grate with the meal on it in order to add additional charcoal.
This unit additionally rusts a bit more quickly than certain units that are made of sturdier materials, which is a plus. However, smoker fans would agree those are minor shortcomings when weighed against this best inexpensive charcoal smoker's low price and high level of performance and durability.
8)Dyna-Glo DGO1890BDC-D – Best Gravity Charcoal Smoker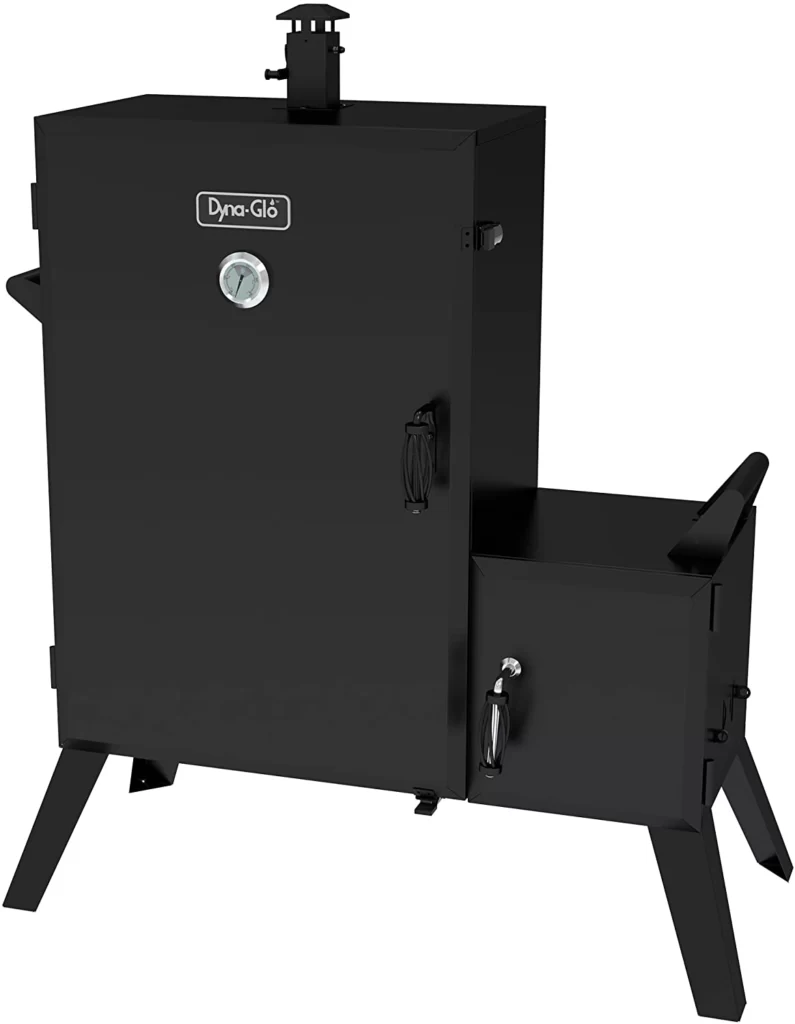 Power Source: Charcoal, Dimensions: 21 x 43.3 x 50.2 inches, Temperature Range: 100–350°F
This massive Dyna-Glo smoker combines the most outstanding qualities of both a cabinet and an offset barrel smoker. The charcoal and cooking chambers' boxy design aids in the circulation of heat and smoke, resulting in more even cooking and smoking of your meats. In addition, the charcoal box is intended to stack briquettes conveniently so you can get the most charcoal into the chamber with the least amount of effort.
Furthermore, an adjustable flue on the smokestack in the cooking chamber allows you to completely regulate the flavor and temperature of your food to completely regulate the taste and temperature of your food thoroughly. You can also keep an eye on the temperature thanks to a built-in thermometer. It is also a good budget charcoal smoker.
According to consumers, the steel construction of this charcoal smoker, like that of Dyna-Glo's smoker which is the best gravity charcoal smoker, is relatively thin. While customers did not notice any rust or wear after one year of usage, several people were afraid that the thinness of the material might begin to show after several years of use.
Even though the cooking area on this smoker is large and approximately 1,900 square inches. Users who wanted to cook party-sized chunks of meat had some difficulty fitting them into the smoker. If you plan on cooking vast slices of beef, users recommend getting the broader version of this smoker, as the cabinet is too square for most cuts to fit.
Finally, consumers discovered that while the smoker could be used right out of the box, it required a few tweaks to achieve the optimum results. Because the smoker is a little leaky out of the box, several users have had to re-seal the edges of the charcoal and cooking chambers to improve smoking efficiency.
Types of Good Charcoal Smoker
There are four types of Good Charcoal Smokers.
Water Or Bullet Smokers
Kamado Smokers
Offset Barrel Smoker
Vertical Cabinet Smoker
Water or Bullet Smokers
The most common kinds of best small charcoal smokers are water or bullet smokers, such as the ubiquitous Watt Smokey Mountain. Grill racks for storing your food are situated above a water dish, which is situated above a ring that contains your coal as well as any smoking wood in this configuration.
This type, in contrast to numerous other charcoal smokers, is mainly used for smoking and does not function well while grilling. The simplicity with which the water smoker may be used is a significant component of its attractiveness. Using a chimney starter, the charcoal is fired, and the embers are stacked in the charcoal circle at the bottom of the chimney.
Fill the center section of the metal bowl in water, beer, cider, or another beverage before putting the middle section on top of the water. The food is arranged on wire racks above the water bowl to keep it fresh (place lean foods, like turkey, on the bottom shelf, so more decadent foods, like shoulders or ribs, can bust them with dripping fat).
By adding wood chips or pieces to the coals, you may adjust the base and top vents (start with the former open) to get the correct temperature 225 to 250°F for classic barbecue and hence the ideal flavor.
Kamado Smokers
This style of smoker (modeled after a Japanese clay cooking urn) is used in conjunction with a grill and smoker. In contrast to most bullet smokes, which are constructed of heavy-gauge steel, many Kamado-style cookers are constructed of ceramic materials.
As a consequence, they make excellent outdoor ovens for a variety of tasks ranging from baking pizza to smoking or grilling. Because ceramics are so highly insulated, they are able to distribute heat evenly and keep a consistent temperature for an extended period of time. BeLess charcoal is utilized as an extra layer of insulation, and its effectiveness is enhanced in very cold or windy conditions.
However, you will have to pay a significant premium for the added adaptability. The Kamado Joe is triple times the cost of a Weber Smoky Mountain grill, which is comparable in size and performance.
The mythical "big green egg" might cost you back far more than you would expect. That's even before you consider the additional accessories you'll need. You'll need to acquire a deflector plate before you can even contemplate indirect cooking methods such as smoking.
Finally, if you are looking for a multifunctional grill/smoker and are ready to pay a little more cash, Kamado-style cookers are a fantastic option.
Offset Barrel Smoker
Oklahoma Joe is an instance of a barrel smoker who uses an offset grate. Smoking meat over an open flame is the ultimate approach to prove oneself as a "genuine" pitmaster.
It's plausible to argue that it's not a true charcoal smoker in the traditional sense. Some pitmasters, like Aaron Franklin, are adamant about utilizing a wood burner rather than coal in order to get the most genuine taste possible. If you're not a strict purist, and there is nothing wrong with using charcoal inside an offset smoker to cook your meat. It is even recommended by several specialists.
The design of this kind of smoker is based on the same principles as the preceding one. With a cover and a horizontal BBQ cooking chamber, it's a practical kitchen appliance. It links to a smaller part, also known as a firebox, at one end. This is what the term "offset" refers to in the name.
We provide an in-depth explanation of how to use an offset smoker in this section.
One of the advantages of employing an offset for cooking is that your fire will be much more easily accessible because of the offset. Especially if you want to spend the whole day tending to a fire made entirely of wood and nothing else. The cooking area is linked to the firebox, which is equipped with a chimney for the purpose of exhausting smoke. As a result of this design, smoke is drawn into the cooking chamber from the firebox, flavoring your food before it escapes the chimney.
The air intake vents may be changed in order to accommodate this situation. All of this goes awry if you get a low-cost horizontal smoker, which goes against all barbecue recommendations. While it may be tempting to purchase a Char-Broil offset grill for less than a hundred dollars, you may come to regret your decision in the long run.
Vertical Cabinet Smoker
In my opinion, the Dyna-Glo Vertical Charcoal Smoker is the greatest example of a vertical cabinet smoker. However, although the majority of cabinet-style smokers are driven by electricity or gas, you may come across one that is fueled by charcoal.
The benefit of this kind of smoker over the bullet or kamado design is that it allows for much easier access to both your food and your charcoal than the former. We won't spend a lot of time on them since they aren't all that common. You can find out more about Dyna-Glo grills by reading our comprehensive page that contains all of our Dyna-Glo grill reviews.
Buying Guide for the Best Charcoal Smoker 2021
Before you go out and buy a top rated charcoal smoker grills, it's a good idea to figure out how much you can afford to spend. It's easy to get sucked into buying a smoker with many features but is out of your price range. So, always consult the buying guide for this purpose.
Cost:
When purchasing your initial smoker or if you would not use a smoker every day, you may not require all of the additional features available. A nice, basic charcoal smoker may be purchased for a relatively low cost.
Size and Grill Capacity:
It is not always true that more is better in terms of quantity. Consider that it would be almost three-quarters of the effort, not to speak a waste of money and time, to fire a massive smoker only to roast two chicken pieces if you seldom, if ever, prepare food for a big group of people. Smokers are available in a variety of sizes, so you'll be able to find one that best suits your requirements.
Multi-Purpose Set Up:
Bear in mind that some charcoal smokers can only be used for smoking, but others may also be used for grilling and baking. You might expect to spend more for a unit that is more versatile, but you could end up saving money on the barbecue in the long run.
Portability:
The terms "portability" and "size" are frequently used interchangeably. The larger your smoker, the less likely you are to take it camping with you. On the other hand, Charcoal smokers are ideal for camping because they don't require electricity or the transportation of a gas bottle.
In your backyard, heavier varieties of the grill, such as kamados, are challenging to transfer from one location to another, let alone on a camping trip.
Branding and Construction Quality:
While a well-known brand does not necessarily mean that the goods you buy will be of excellent quality, it is still essential to get familiar with the many different brands available & their respective reputations before making a purchase.
Consider the following scenario: you stumble across a kind of smoker that you've never heard of before. In such a scenario, it's worth your time to find out what kind of customer service they provide (if any), as well as further information as to where the product is manufactured and the level of creativity you can expect from them.
Warranty:
Getting your smoker back and taking it through its paces makes it easy to remember to enquire about the manufacturer's warranty. The duration of a manufacturer's warranty, on the other hand, is usually a good indicator of the product's overall quality.
Additional research should be conducted to determine what other clients have to say about the firm. Unfortunately, although some corporations manufacture good-sounding guarantees, getting them to uphold them may be as difficult as gnashing one's teeth.