How could you not want to smoke meat and that too with less effort on your own? To ease your confusion, I am explaining the best pellet grill under 500 you can buy and smoke meat at your home.
$500? Are you surprised?
The market has a variety of charcoal and electric smokers that you can choose from, but pellet grills offer you the extra premium features you're looking for only $500.
Cooking food on charcoal and electric grills takes extra time and energy. But with pellet grills, you can cook delicious meals in 40% less time than with a charcoal grill or an electric grill. 
It is worth it to have pellets because they give a unique aroma to your barbecue and can be adjusted in temperature.
Best Pellet Grill Under $500 – Reviews
I chose the ten best pellet grills under $500 so far.
1. Green Mountain Grills DCWF – Best Pellet Smoker under 500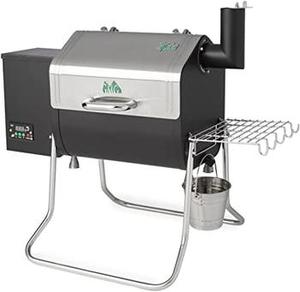 A Green Mountain Davy Crockett is, without a doubt, one of the best when it comes to innovation and smart assistance. It is very convenient and allows you to fold all four legs, making it easy to maintain and to take anywhere with you during a trip.
Foldable
WiFi supported
Handy and durable
Best for outdoor cooking
It has a WiFi connection, and you can adjust the temperature with remote control. An app can be downloaded for iOS and Android to work as a remote for this pellet grill. The pellet grill creates a lot of space and ease due to its automation.
The best feature of this pellet grill is that it has excellent quality and is comparatively affordable. Davy Crockett has a generous 219 square inches cook area with a temperature range of 150-550F. You can also speed up cooking by increasing temperature intervals by 5F.
The Davy Crockett Pellet Grill is the perfect choice for someone who travels many and cooks on the go. It also has an engine setting that gives you easy access to the whole grill. There is also a convenience tray in which to hang your dishes.
Pros
Foldable
WiFi supported
Handy and durable
Best for outdoor cooking
Cons
Small cooking area
Dependent on the power source
2. Z GRILLS ZPG-2002B Wood Pellet Grill – Best Inexpensive Pellet Grill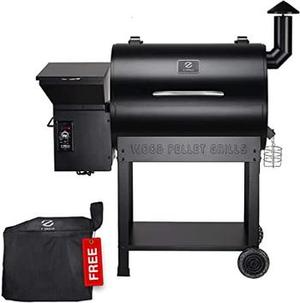 BBQ fans will absolutely love this product, with a temperature range from 180 to 450 degrees. The features are unmatched, with a thermostat that continually keeps temperatures from 180 to 450 degrees.
3-year warranty
Lifetime guarantee
All-rounder
8in1 pellet
There are approximately 550 square inches of cooking surface with this pellet cooker, which are quite useful, and it comes with a 10lb hopper capacity. It is controlled by digital technology to control the temperature at +–20 intervals.
Zgrills 8 in 1 BBQ smoker has a large wheel that allows it to move easily between your lawn and a bbq pit while cooking. Its low storage capacity allows for storing multiple items while cooking.
Besides that, you can cook your food however you want with it as it can grill, smoke, bake, roast, braise, sear, and chargrill your meals with an exceptionally tasty woody taste.
Pros
3-year warranty
Lifetime guarantee
All-rounder
8in1 pellet
Cons
Inefficient temperature gauge
3. Z GRILLS ZPG-7002E – Best Pellet Grill under 500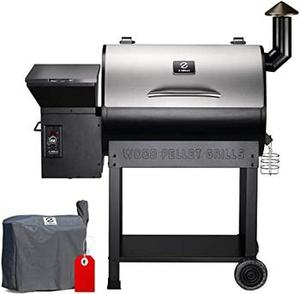 The design of Z grills 7002E literally 'compels' you to smoke food with it. With its flexibility and user-friendly outlook, which allows you to prepare delicious food, to its all-encompassing features, it is excellent.
3-year warranty
Large cooking area
Large capacity to store wood pellets
All-rounder
It is perfect for anyone looking to smoke, barbecue, braise, bake, chargrill, roast, sear, grill, roast, and bake. The best thing about Z grill 700 is that it has a cooking area of more than 700 square inches, making it easy and user-friendly. 
The size of the hopper also makes it worth lauding; it holds 20lbs so that you can take a break while it fills on its own.
In addition, the Zgrill 700 has many great features that make your work way simpler. The grill has approximately 504 square inches of cooking space and 190 square inches of under the grill cooking space.
With the electric feed system, the pellet will adjust the temperature so that it cooks to perfect doneness whenever you pick from temperatures from 180-450 degrees via a digital display or a knob.
Although you may think that the features listed above are enough for you, the Z grill 700 offers you more than that! Its convection mechanism makes the heat distribution even and helps the meat cook just perfectly along with a smokey flavor.
You will really appreciate the stainless-steel look and quality casing. This product comes with a grease bucket that makes it much easier and quicker to clean. It also comes with a warranty.
Other good pellet grills can be acquired if your budget increases. You can find the best pellet grill reviews as well on our website.
Pros
3-year warranty
Large cooking area
Large capacity to store wood pellets
Is durable
Grease bucket
All-rounder
Cons
No separate ash container
The smoker part is not perfect
4. Traeger Grills TFB38TOD Renegade Pro Pellet Grill – Best Pellet Grill for the Money
Digital grills cook not only perfectly but also efficiently. That's where the Traeger Grills Tailgater 20 comes into play. It uses a digital thermostat that keeps food warm while allowing the temperature to be measured. It has an LED screen that displays the temperature of the grill.
Durable steel casing
Convenient
Easy setup
Automatic start
Tailgater contains a convection blower that assists in distributing heat evenly for the succulent fare. It also has a 300-square-inch cooking surface, which allows users to cook more food in less time.
Other than that, the temperature scale can range from 150 to 450 degrees F, giving you a wide range of options. This pellet is versatile and has been used for barbecues, braising, smoking, roasting, grilling, and other cooking styles. 
The Tailgater is only 62 pounds in weight, making it a light and portable piece of equipment.
This pellet comes in a steel container that has been powder-coated for extra protection. We have found that Tailgater produces the best pellet for less energy consumption.
Grilling on this grill gives food a woody smoked flavor that is particularly strong, as it only uses 300 watts at first and then decreases to 5 throughout the cooking process.
Pros
Durable steel casing
Convenient
Easy setup
Automatic start
Mobile
Great price
Cons
Small hopper
Small cooking space
5. BIG HORN Pellet Grill – best Pellet Grill under 400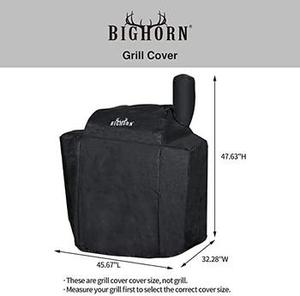 As the name suggests, Bighorn outdoors pellet grills can accommodate up to 20 burgers at a time. Not only do they have a cooking surface of approximately 700 square inches, but they also come with numerous cooking features. 
In this pellet, food can be broiled, baked, grilled, roasted, smoked, and barbequed.
Portable
Durable
Large surface area
Efficient
A top-quality stainless steel casing protects the Bighorn Pellet. This pellet smoker comes with an LED display that lets you read the temperature. It has automatic temperature control and a temperature range of 225 to 450 degrees.
Wheels enable you to move the pellet around, and smokestack dampers can be moved with ease. A lower storage rack can also be adjusted, so you have space to properly store your stuff.
A product with 8lbs of hopper capacity may not be satisfactory for some buyers. As an affordable option, it does not come with a hopper of that size.
Pros
Portable
Durable
Large surface area
Efficient
Affordable
Steady heating
Cons
Less hopper capacity
No warranty
No lid thermometer
No upper warming rack
6. Cuisinart CPG-4000 – Best Smoker Grill under 500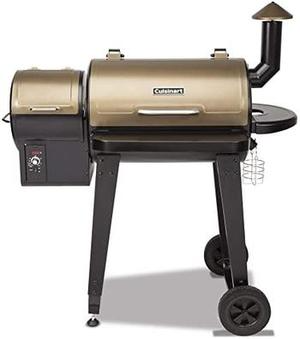 If you want a portable pellet grill that's affordable, easy to use, and keeps the temperature consistent even with different items, Cuisinart's CPG-4000 can be your answer. 
The LED display on the grill temperature control lets you know what the current temperature is.
Electric start-up
Resistant grill cover
LED display
Easy storage
It comes with a large storage capacity to allow you to store your cooking ingredients, and the wheels help it to move around. It has an interactive design that you can interact with. It has a 450-square-inch cooking surface, and its design lets you move it around.
I'm extremely satisfied with the packing as it is hard and durable and protects against UV rays as well as water-resistant. It has exactly the correct size, and it's about 45 inches in length.
It also requires no additional payments to let you have all the important accessories. Furthermore, the CPG 4000 barbecue grill lets you do several tasks, including grilling, braising, roasting, baking, and smoking.
This pellet comes with all the necessary accessories that you could possibly need, for no extra fee. These pellets are extremely cheap and provide amazing quality, making them a great choice if you do not want to overspend.
Pros
Electric start-up
Resistant grill cover
LED display
Easy storage
Simple directions
Cons
Difficult to clean as it clogs
The door is not smooth
7. Ozark Grills – Best Wood Pellet Grill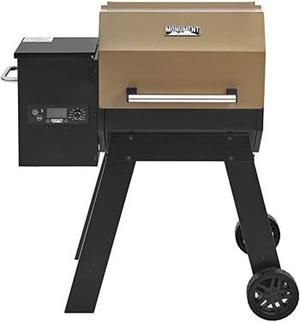 Not only have Ozark Grills improved my barbecue, but they also made a small pellet barbecue with an amazing feature set.
Manageable size
Ideal for family use
Straightforward digital control panel
Temperature monitor
Several adjustments are available through a digital control panel on the Razorback pellet. It has an overall temperature range of about 180-450 degrees and a grilling area of about 305 inches. Its hopper volume is approximately 11 lbs.
In addition to the temperature control technology, the temperature control sensors of Razorback wood pellets regulate the air current, maintaining cooking temperature under these circumstances. This makes cooking in this pellet fairly simple.
A steel casing surrounds this grill, which provides a durable surface. There is enough room in the lower section of the grill to store everything you need. Their durability and low maintenance features make this grill ideal for household cooking purposes.
It comes in bronze and black color options. The net weight of Razorback is 35 kg. The steel exterior has orange peel powder on it that adds a nice finishing touch.
There is also an easy-to-use system for cleaning the grease collector that is easy to maintain. Razorback customers are likely to be satisfied with the product, enabling it to be one of the best pellets for their needs.
Pros
Manageable size
Ideal for family use
Straightforward digital control panel
Temperature monitor
Cons
Frequent refilling
Demanding
8. Camp Chef Pursuit PPG20 – Cheap Pellet Smoker under 500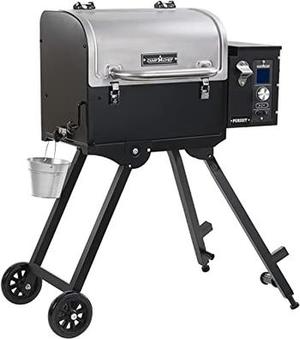 This pellet grill from Camp Chef PPG20 comes with much more than one would anticipate for its price.
Portable
Easy maintenance
Dual thermometers
2-year warranty
The coolest feature of this product is its dual LED temperature checker. This makes it possible to not only check the temperature inside the closed lid but you can also to verify the temperature inside the meat. The temperature control is completely digital, so you have to do very little work.
In addition to the other features, Camp Chef has added another dual function. This feature uses dual convection heating elements, which allows you to cook perfect meals by directly regulating the heat currents in the pellets.
PPG20 is child-safe, thanks to a lockable lid. Since this pellet grill is childproof, your child no longer has to be concerned about the grill.
Moreover, this pellet grill is heated to about 550F and has a large grilling surface of about 500 square inches. At this price, it is a very good price. However, the grill is quite heavy.
While providing a quick-fire two grill grates with a lever-activated searing, Camp Chef understands its customer's needs.
Pros
Portable
Easy maintenance
Dual thermometers
2-year warranty
High quality
Classic wheel design
Cons
Limited sear feature
Heavyweight
Price
9. Pit Boss Classic 700 sq.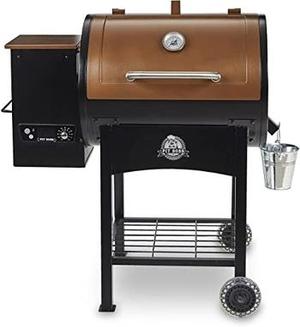 Pitboss Classic 700's surface area is 700 sq. Inches. It is less expensive than other pellets but far more interesting compared to other pellets because of its size and capacity.
Pellet grills are specifically designed to give the ideal woody flavor to the meat. Additionally, Pitboss pellet grills have a flame broiler. The flame makes it easier to cook steaks and chops.
Excellent temperature range
700sq inch cooking area
Grease bucket
Flame broiler
There are two cooking racks, which give you more space to prepare a meal. The heating system is digital, which makes it a great option. The LED display provides a good means to read the temperature.
There are several things special about the classic 700, including the fact that it doesn't need gas to start up. It is powered by wood pellets only. Within its temperature range is 180 to 550 F.
This grill is perfect for any outdoor chef, who desires to grill, smoke, bake, sear, braise, barbeque, roast, and chargrill—ideal for the consumer looking to get a good deal on a quality grill for less money.
The body is designed from stainless steel with an exceptionally durable powder coat finish which greatly enhances the texture of the material. It features locking wheels, which allow it to stay in place, and double-tier racks. 
With a storage capacity of over a hundred cubic feet, this unit is ideal for storing a multitude of items. It comes in blue and black, plus bronze and black colors.
The cooking grid has porcelain coating to offer smooth cooking and durability. It allows for easy and efficient cooking. The hopper capacity is 20lbs.
Apart from that, customers are generally very satisfied since it is very good for those who are just getting started cooking with pellets. In addition, it is good for people who are just getting into pellet cooking because it smells good and has a smokey flavor that everyone enjoys.
Pros
Excellent temperature range
700sq inch cooking area
Grease bucket
Flame broiler
Simple to use
Cons
Less warranty
Temperature fluctuates
10. Camp Chef PG24XT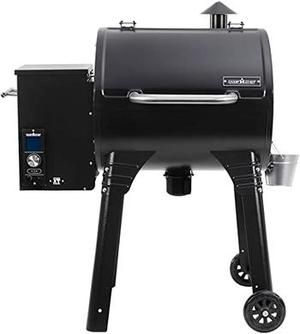 Its products have always looked great as well as having great extra features. These include the PG24XT smoke pro pellet I reviewed earlier. The appearance is classic with stainless steel body-built and smooth wheels, so you can move it anywhere.
User friendly
Easy to maintain
All-rounder
Three years warranty
Its automated digital functionality and convenience can lead to a more enjoyable cooking experience. Automatic digital control is a great way to reduce cooking time and effort.
Cleaning the system is pretty straightforward. Just throw the ash away. There's no vacuuming or wiping with a wet cloth required. That's where most pellets lack out there in the market.
Additional features include grease and cord management systems, so regular maintenance is virtually effortless. Smoking levels on this pellet smoker are excellent, even down to 1-10 degrees. There are also two meat probes to check the temperature.
With this model, Camp Chef has done a good job. The temperature ranges from 160o F – to 500o F. The cooking area measures 570square inches. It would weigh 133lbs, and it would have a hopper capacity of 18lbs.
In addition, the upper and lower rack areas have slightly different proportions, with 141 square inches in the upper rack and 429 square inches in the lower rack. Lastly, this pellet grill has an incredible capacity of 3778 square inches, making it a truly unique pellet grill with amazing features.
Pros
User friendly
Easy to maintain
All-rounder
Three years warranty
Cons
The things to consider when purchasing a pellet grill with 500 bucks in hand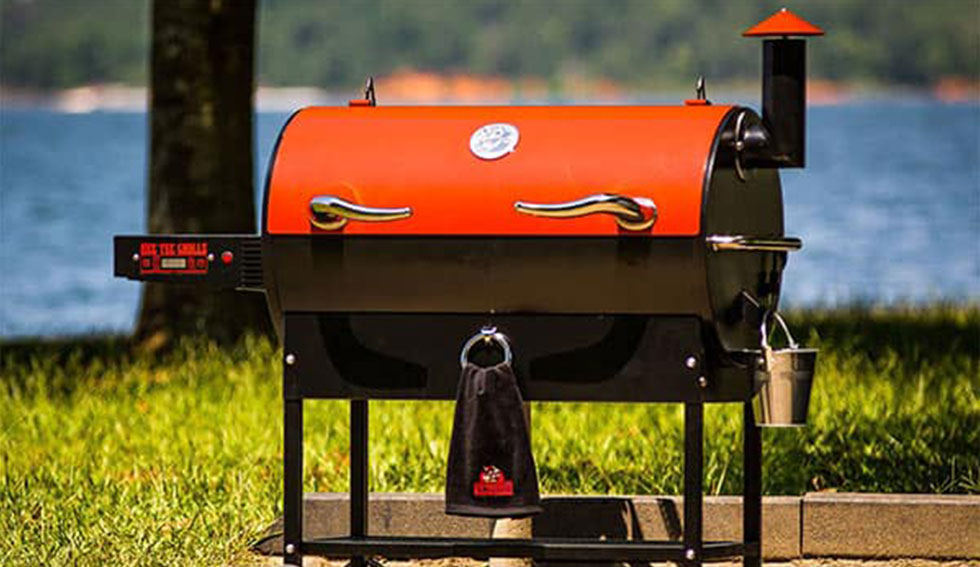 Here are a few things you need to know when buying a pellet grill for under $500. Reading this buying guide will help you get the best deal.
Cooking area
Grills with a grilling capacity under $500 come in a variety of sizes. If you're frequently on the move, you're likely to buy portable models. However, there's less room to cook on these models.
The best option, however, if you are cooking in your own home, is to go for a pellet grill with a larger cooking area. Don't forget to take into consideration the amount of outdoor space you have since a small pellet grill may not fit in your backyard.
It's important to keep in mind the cooking space for commercial usage is essential. Once you have a lot of people to feed, you don't want to run out of grilling space.
Look for the one which offers a wide temperature range
For well-cooked food, you will need something to reach a wide temperature range regardless of the grilling method you prefer, a pellet grill, charcoal grill, or a gas grill.
You may also need to experiment with its cooking techniques.
Most premium pellet grills will boast temperatures ranging from 180 to 425 degrees Fahrenheit. That range of temperature is perfect for grilling, roasting, baking, and smoking meat. 
A grill can reach temperatures up to 500 degrees Fahrenheit, which is quite impressive, especially if you need quick grilling with delicious sear marks.
The best way to make sure that your dish stays within the desired temperature range is to use an accurate thermometer and adjust it accordingly. A good thermometer, then, is an essential cooking tool for expert cooks.
Check the Hopper size
The best pellet grills have large pellet hoppers. The pellet hopper is directly connected to the pellet feeding system, so it needs to store a decent number of wood pellets for cooking time.
So you need to be prepared for frequent refilling if you have a small hopper size.
The overall design and parts
A pellet grill isn't complete without parts, so it's a good idea to know whether the elements you need are in stock, such as the fan, the electric control board, and the automatic auger. There's an entire website dedicated to pellet grill repair kits and maintenance kits. 
In the following, we will discuss the most frequent pellet grill accessories.
Firstly, it is vital for each pellet smoker to have well-designed auger motors. They should run smoothly, but if you encounter any problems, you can easily find a replacement for them. 
They are generally priced between a couple of grand and about a couple of grand at most online stores.
There are plenty of instructional guides and even video tutorials online if the motor of the heating fan stops working properly. If it keeps heating up, the smoker will not work properly and would need to be discarded.
If you do not have a meat probe, you can very easily find and purchase one in stores. Most high-quality pellet grills will include one in their package, but if you do not, you can very easily buy one in stores.
It's a device used in industrial control applications that helps you set your desired temperature. It's referred to as a PID controller for a proportional integral differential (PID) controller.
Also, add functionality by adding a pellet hopper extension to your grill. Pellet hopper extensions are extremely cost-effective since they can help increase cooking time on pellet grills with a price under $500.
You cannot judge quality solely on the basis of price. The following list will help you better differentiate between products and services.
Ease of Use
You will have to use a pellet grill with user-friendly features. It should have automatic functions that help you simplify cleaning. It should also have non-stick grates and an ash pan, which minimizes the effort for cleaning.
Versatility
A pellet grill doesn't have to only be used for grilling. Some pellet grills are versatile enough to be used for other cooking applications such as smoking, braising, roasting, and so on. A versatile pellet grill should also be equipped with wide temperature adjustments to accommodate varied cooks.
Construction
This will indicate the quality of the pellet grill's durability and performance. A solidly built pellet grill will last you many years. Its materials will also heat more efficiently, making it easy to maintain desired temperatures when cooking on the pellet grill.
Portability
Pellet grills have to be moved from one place to another, so choose one with a portable design. It doesn't matter if it's heavy, as long as it has wheels. This means moving the unit around will be a piece of cake.
The foldable legs mean that you can set them up and take them outside, such as when camping or tailgating.
 FAQs: Frequently Asked Questions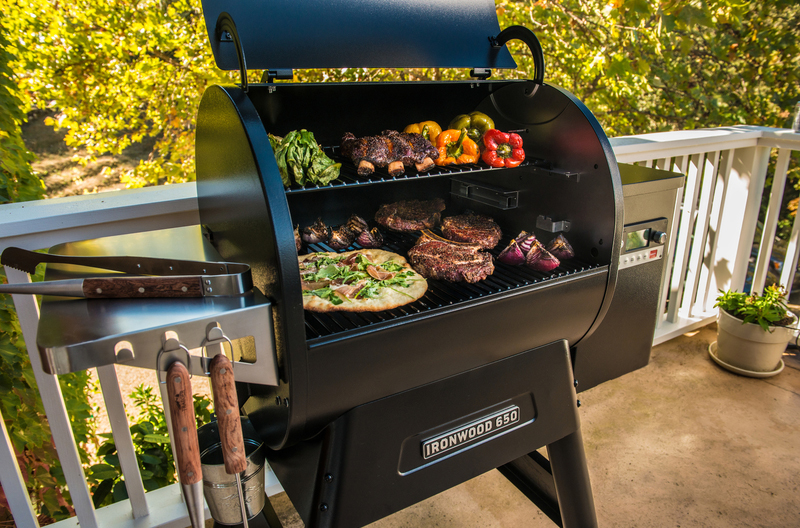 Can we grill on a pellet smoker?
Yes, pellet grills have more than one purpose. The features of a pellet smoker allow you to perform eight tasks.
Are pit boss smokers good?
Yes, they are. They are quite similar to Traeger pellets but so much more affordable and with such an exciting flavor.
Can a pellet smoker replace a gas grill?
The propane grill is a better option for grilling since it uses less fuel and allows for more efficient searing.
Can you cook burgers on a pellet grill?
You can add woody flavor to the meat in a pellet grill by setting the right temperature at 225 degrees F for about 20-30 minutes. Burgers can be cooked in the pellet by setting the right temperature at 225 degrees F for about 20-30 minutes.
Are pellet grills worth the money?
There is no doubt about the fact that pellets come with advanced features. You can select the pellet you like depending on your preference and budget. Many people also find pellets much more user-friendly than cigarettes.
Do pellet grills cause cancer?
Some people believe pellet grill food causes cancer; however, research indicates there is little solid evidence to support this assertion. Additionally, pellet smoke is thought to contain carcinogens (cancer-causing agents), which are only harmful if you consume smoked meat regularly from pellets.
What is the best pellet grill under $500 in 2021?
The overall best grill is the Z GRILLS 700E because of its features and reliability. However, Ozark grills Razorback and Green Mountain grills Davy Crockett are also excellent choices.
Are pellet grills suitable for smoking?
They are constructed using thick metal and have regulators installed. The pellet grills can be used by experts for barbequing food.
Are pellet grills better than gas?
The pellet grills have major advantages in that it provides natural taste, and it combines barbecue and smoker functions.
Can you use wood chips in a pellet smoker?
With a charcoal pellet smoker, wood chips can be added, though the flavor will be limited.
Does an electric pellet grill need electricity?
The pellet grill must be connected to an electrical supply that will power its parts. The grill's auger, controller, and igniter, among other components, are powered by the power supply.
How do you clean a pellet grill?
Scrub the grill grates immediately after you have finished grilling. Waiting too long can cause the dirt to harden, making it more difficult to remove. For the body, use a cloth soaked in water with mild soap. Do not allow the electrical elements to get wet.
How long do pellets last in a grill?
A two-pound bag of pellets will last about an hour for smoking. Meanwhile, four pounds of the pellet can last about one hour for grilling. It depends on several factors, including the size of the hopper, the quality of the pellets, and the level of heat.
Conclusion
The trick is to shop smart! Hopefully, we were able to help you figure out that you can get the best pellet grill deals under $500.
The best part is, that you can't go wrong with any one of these affordable grills, so it's a tough choice. Z Grill is one of your bestselling grills, along with Camp Chef and Green Mountain. 
The Z Grills ZPG 7002E Wood Pellet Grill impressed us most for its multiple uses and durability, while the Camp Chef Pro DLX offers a three-year warranty.
Related Posts: