Both Nutribullet and Vitamix are well-known brands for making commercial and personal blenders. Different models with different specifications are available in the market. Nutribullet mainly focuses on personal manufacturing blenders.
In contrast, Vitamix is known for making large size or commercial blenders. Vitamix is the first choice of professional chefs due to its large size. You have both the options of getting blenders for personal use or commercial blenders from both brands. It's tough to choose the best when you want a blender for your kitchen.
Sometimes purchasing a blender could be hectic for you. You have to look at several things before spending your money. In the below lines, you will catch a detail of Nutribullet vs Vitamix. It will help you to choose one of the best brands. 
Nutribullet Blender Overview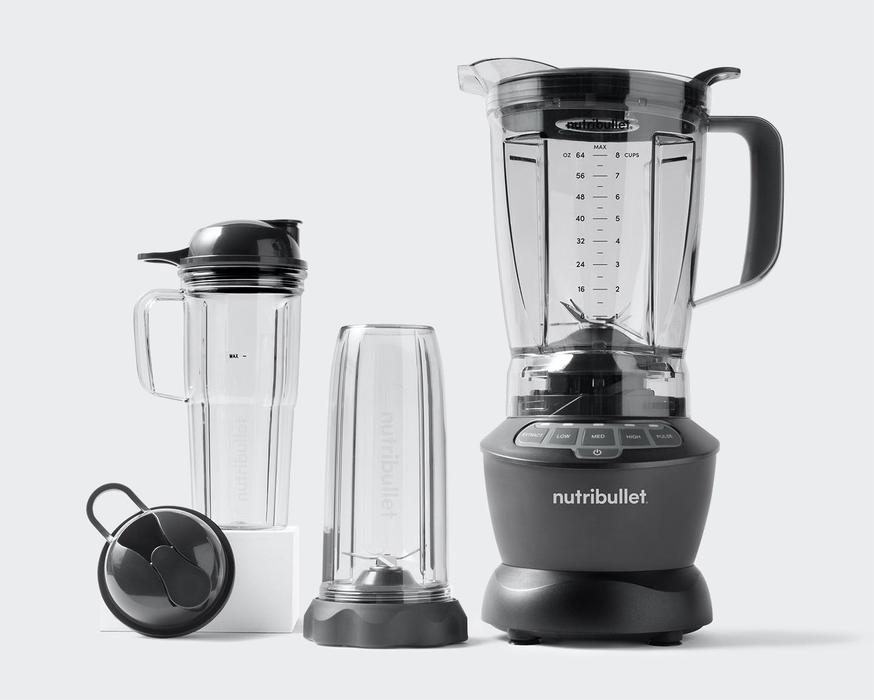 If you have ever used a personal or single-serve blender in the past or have one at your home, you are familiar with the Nutribullet brad. It is famous for making bullet blenders. We can say that they are dominating the other brands in this category. 
Nutribullet company is the first to make bullet or single-serve blenders. It is also known for its quality products that the users appreciate. Unlike other brands like Vitamix, they provide small-size blenders that are more portable than the large-size blenders prepared by Vitamix.
Despite being small in size, they perform almost the same function and blend everything a large blender does, which means that you can blend anything on a single go with the more portable blenders by Nutribullet.
Nutribullet introduced its first large-size blender in late 2019, called the Nutribullet blender combo. It was the first large-size product by the company that usually provided only bullet blenders.
Apart from being portable, these blenders come with a two-blade system which makes them more efficient. The blade system is unique and contains 4-prong blades with 2-prong blades below it. This highly efficient lad system is to make the blending more efficient. 
Nutribullet products are easy to use; practically everyone can use them without any distress. Only the capacity is low, so if you want to make a few cups of smoothies or frozen drinks, it may not be helpful. 
Pros
Easy to use
Pocket-friendly
Compact and portable
Cons
Short warranty
Less capacity
Vitamix Blender Overview
As Nutribullet dominates the category of bullet blenders, Vitamix is known for its large size blenders. It started in 1921 and is more prevalent among professional chefs. But the brand is also making bullet or single-serve blenders and has some models in the market. 
When we talk about Vitamix, the things that come to mind are power and capacity. These blenders need ample motor power to operate. So the motors are designed to be more powerful and significant to maximize the efficiency of blending to make smooth smoothies. 
Unlike Nutribullet, Vitamix always tries to fulfill to needs of its users. Nutribullet has only three models of blenders, but Vitamix has a range of different kinds of blenders, single-serve and large size blenders.
So, it's confirmed that Vitamix would have a perfect blender according to your need. The blade system is not that sophisticated as that in Nutribullet.
Blades are tough, so they can crush everything, whether soft or hard. They crush the ice quickly and make sure that it stays longer. The blades are made from a special kind of stainless steel to ensure long service. The only thing people don't like about the Vitamix blenders is the price. They are pricy as compared to Nutribullet blenders. 
Pros
Large capacity
Crush hard things like ice
Long time warranty
Wide range of products
More power
Cons
Relatively expensive
Take more space
Comparison Chart of Nutribullet Blender Vs Vitamix Blender
Below is a quick comparison of Nutribullet blenders and Vitamix Blenders. You can check out the power, price, design, warranty, and a lot more. This chart will make it easy to decide between the Nutribullet and Vitamix.  
| | Nutribullet | Vitamix |
| --- | --- | --- |
| Power | Up to 1,400 watts | Up to 1,700 watts |
| Speed | Single-speed up to 37,000 RPM | Variable speed with pulse up to 30,000 RPM |
| Pitcher Capacity | Up to 45 oz. | Up to 67 oz. |
| Design | Small and compact | Large and bulkier |
| Controls | Variable speed knob and 2 toggle switches | One-touch buttons |
| Warranty | 7 years | 1 year |
| Price | $60 to $150 | $250 to $500 |
Nutribullet Vs Vitamix for Smoothies
It's a fact that Vitamix and Nutribullet are the most trusted brands when we talk about the best brands for blenders. Nutribullet or Vitamix, both are the leading brands in the market, providing quality products and caters the need of users.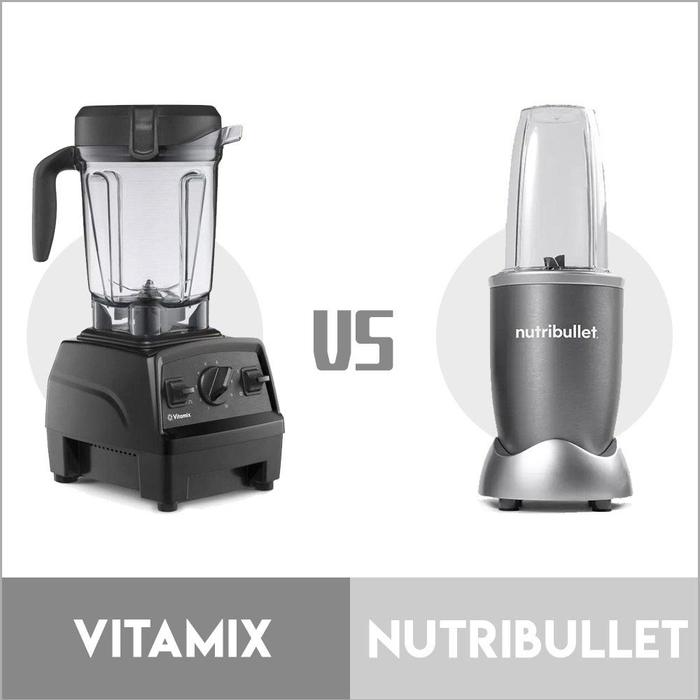 You can buy the blender from any of these two, but it is still worth noticing that you get something that caters to all your needs. Both the brands provide quality products and are satisfactory to their customers.
Blenders by both companies are readily available in the market and on different online platforms. For this purpose, you should look at the following points while deciding to buy a good blender. 
Power
Power is the most important thing to notice while buying a blender. Regardless of the blender, you are buying, look at its power; it should be enough to blend or crush all the ingredients you want to crush. As both Nutribullet and Vitamix are the leading brands, their blenders will be more potent compared to others. 
However, when we discuss the blender power, there are some other brands too in the market with high power. Nutribullet and Vitamix are not the only brands having powerful blenders.
Vitamix is known for manufacturing the more powerful blenders that can crush almost all types of ingredients. They are known for making smooth frozen drinks, hot soups, and crushing the ice for a longer period. Even their cheap or budget-friendly models provide 1400 watts with 2.2 horsepower. This brand has other more powerful blenders, like Vitamix blender 3200. Even the more powerful is Vitamix 5200. 
There are some blenders by Nutribullet that can deliver almost the same power. But you cannot crush everything with the Nutribullet blenders. Some low-power blenders are Nutribullet blender 1000w and Nutribullet blender combo 1200w. Blenders with more power are Nutribullet blender 3200w and one with 1,700 watts.  
Speed
Another factor you should look for while choosing a blender for you is the blender's speed. While deciding the brand, you need to remember that blenders with high speed mean the brand is good.
Since the blenders by Vitamix deliver more power, so it is obvious you would expect a high speed as well. The company didn't disappoint its users; it provides high-speed blenders, as you can expect about 37,000 RPM from Vitamix blenders.
In Vitamix blenders, there are some products with variable speed settings. You can modify the speed rendering to your requirement. There can be ten different speed options, and you can choose one from them. Some of the blenders come with the pulse function. 
Nutribullet blenders are not as good at providing high speed as Vitamix blenders. There is hardly any blender that delivers 30,000 RPM speed. The worst is, these bullet blenders by Nutribullet have only one speed setting in them, which is a restriction for some of the users. 
Pitcher Capacity
No comparison is there when it's about the capacity of the pitcher. One brand mainly focuses on making large-size blenders for commercial use with more pitcher capacity, while the other is specialized in making the bullet blender with low pitcher capacity. 
When buying the Vitamix Blenders, we can expect a pitcher capacity of up to 64 ounces. With these high pitcher capacity blenders, some low capacity blenders are also the powerful Vitamix model 5300 and 7500. The latter has more stability. 
Nutribullet blenders have a maximum pitcher capacity of up to 45 ounces. As their blenders are bullet or single-serve, this pitcher capacity is good enough. But in comparison to Vitamix blenders, it's relatively low. It is only suitable if you want to make smoothies for yourself or two persons.
Design
Whenever you buy a blender, the most important thing is to notice the blender's design. Vitamix offers large-sized blenders that take more space in your kitchen, as Vitamix 5200 comes with the taller pitcher that cannot fit in your cabinet. But some blenders are available that take less space and are more compact, like Vitamix 7500. If you don't need it for the whole family, a compact one is better.
Nutribullet blenders are more compact. Some of the Nutribullet products come with sleek and stylish designs. These blenders look more excellent and beautiful as compared to Vitamix. As the company has proved small or single-serve blenders, it is easy to manage them in the kitchen without any trouble. 
Controls
Controls are another element that needs more attention when buying a blender or choosing from Nutribullet or Vitamix. As the Vitamix blenders are large, they will have more control than the small-size Nutribullet blenders.
From a typical Vitamix blender, you can expect to have a speed control knob that will permit you to select one speed from the available ten options and the toggles attached to each side of the knob. There are two switches in some models: an on/off switch and the other for pulse function. The latest Vitamix models have more control options like the pre-set functions. 
Nutribullet blenders have a simple control system. Some of the simpler models have just one button. But some of the blenders come with simple control and don't have any pulse function. The latest models have automatic start and intelligent functionality if we consider the latest models. 
Ease of Use
Both the Nutribullet and Vitamix new models are easy to use and handle compared to the previous versions. Ease of use is the main factor we should consider while buying a blender. Some Nutribullet blender has a Bluetooth option to connect. Some blenders do have an app to communicate with your blender.
This app is handy as it suggests different recipes depending on your diet goal. There is an app that you can link through your phone or tablet via Bluetooth. Vitamix offers some pre-set programs to make it easy for you to use the blender for different functions. 
Warranty
Warranty is indeed an important thing to consider while buying anything. So, the best way to gain confidence is to purchase something with ample warranty time. Products from both brands come with a warranty. Only the time of this warranty for both the brands is different. 
Most of the Vitamix products have a 7-year warranty, while some models have 5 years' warranty. It doesn't matter you are getting which model from both you will be getting enough warranty. 
Comparatively, Nutribullet models have less warranty time. Most of the models provide only a 1-year warranty time. But this is a trusted brand, and a one-year warranty doesn't mean that your blender will stop working correctly after a year. 
Price
Both Nutribullet and Vitamix are highly reputable brands with bestselling products. You do not pay the same amount for some regular blender in the market. You should have enough money if you choose from Nutribullet or Vitamix. Later is comparatively expensive due to its large size and more power. 
If you want a Vitamix blender, you should pay about $250 to $500 depending upon the product you buy. For Nutribullet, you need to spend much less comparatively, as they make bullet or small size blenders with less power. So, they cost about $60 to $150, depending upon the model. 
Conclusion
One of the best ways to ensure that you end up with the best product is to buy from top-notch brands like Nutribullet and Vitamix. They never disappoint their users. However, the users face difficulty choosing the right brand to buy the required product. And it happens due to the lack of knowledge about the brands and their models.
After reading the above article about Nutribullet vs Vitamix, you get enough information about both the brands. Making a decision should be more straightforward now. If you are looking for blenders for your personal use, the Nutribullet blender is the right choice being affordable and compact.
But if you want a blender for commercial purposes or need a large size blender for family use, the Vitamix immersion blender being more powerful and significant, is the right blender for you. Whatever the blender you are buying, make sure to take care of your product while using it and keep it clean and safe to enjoy your experience with the product.