The best lump charcoal is perfect for barbecue parties in your backyard, and most backyard BBQers or enthusiasts like them for taste. Several additives like a binder, petroleum, and filler are included in briquettes, but lump charcoal contains 100% of the wood that goes through carbonization. These lump charcoals come from hardwood like oak, elm, and maple. They give an extra smoky flavor to your steak, ribs, chicken, and burger, and no doubt your taste buds will love this barbeque food with a flavor of smoke.
You can easily distinguish between the briquettes and lump charcoals because briquettes come in regular and uniform shapes. The lump charcoal is made from wood and contains irregular shapes. A higher temperature is required to burn them than briquettes. This guide will give you information about picking up the best charcoal lumps for your grilling. Read it to learn about the best hardwood charcoal and why they are the perfect companion for outdoor cooking.
Table of Content:
Best Lump Charcoal for Smoking in 2022
There are a variety of lump charcoals that I often come across while buying them for barbeque parties with friends and family. Almost all beat charcoal brands offer high-quality lump charcoals; few brands truly meet the standard. Over the years, I have tested these brands and compiled the list of the best lump charcoal for smoking in 2022. Let's look at the features and utility they offer for cooking, smoking, and grilling sessions.
1) Jealous Devil Lump Charcoal All Natural Hardwood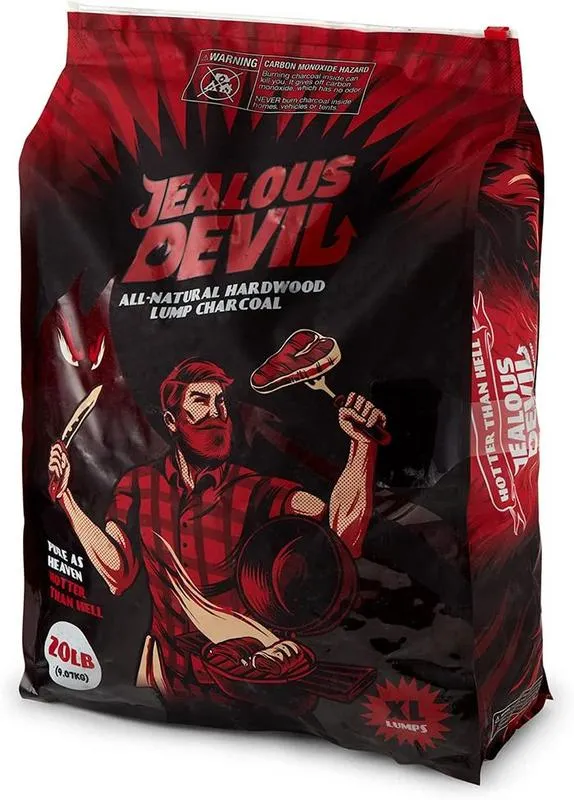 | Specs | Values |
| --- | --- |
| Brand | Jealous Devil |
| Flavor | Oak |
| Best for | Grill, Smoking |
| Weight | 20 pounds |
Jealous Devil Hardwood Lump Charcoal is a unique form of lump charcoal from a Paraguayan hardwood tree called Quebracho, which translates as ax-breaker. My friend John recommended me when I was finding high-density charcoal. The high density gives it a uniqueness and brings it to the edge above the other South American lump charcoals.
Larger Reusable Lumps
The extra-large lump is the key point to impress their user, and most griller wants to buy them for their reusable quality. The Jealous Devil lump charcoal is great in quality, and you can also reuse them for your cooking. Their mild aroma will impact the flavor of your food and enhance the taste. It is best for grilling white fish and the other fish recipes.
Long-Lasting Burning
Although they are large, they will ensure a good temperature up to 117 F°, which is much higher than the other charcoal on this list. That's why you can say that this is the perfect lump charcoal for locking and searing the flavors in your food.
Moreover, this lump charcoal will burn for a long time, up to 4 hours on an open grill and for 29 hours for smoke, and no doubt this time is more than enough for cooking and flavoring your meat. This type of charcoal produces minimum ash, and you can clean them easily after finishing your work. You will not feel any problem clearing all of the mess.
Free from Chemicals
Like the other quality lump crystals, they are also free from additives, filler, and chemicals. They also produce little ash with no popping or sparking. These are the handpicked lumps, hand-cut, and naturally produced in South American hardwoods. Although they are free from unnatural substances, they undergo a hand-firing process in the custom brick of the manufacturers.
Huge Versatility
It comes in waterproof and resealable packaging, which is a bonus. The Jealous Devil is available in 4 different sizes, and you can choose according to your requirements. There are smaller 8-pound bags for single-use and a 35-pound bag that you can pick up suitable for your chimneys like Kamado grills, smokers, and charcoal grills.
Benefits:
It provides a high temperature for quick cooking.
The mild flavor adds to the taste of the food.
Ash production is low due to high-quality wood source
It is healthy as there are no fillers and chemicals in it
Drawbacks:
Handling the bag seems challenging
The lump charcoal is expensive for most people
2) Fogo Super Premium Oak Lump Charcoal for Smoking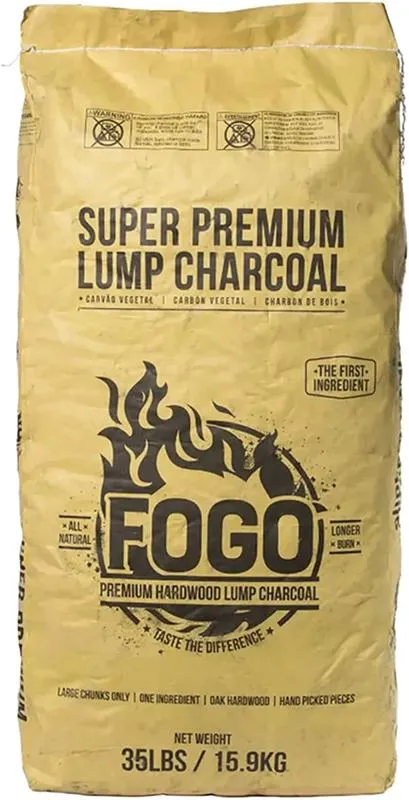 | Specification | values |
| --- | --- |
| Brand | Fogo |
| Flavor | Oak |
| Best for | Reverse Sear Cooking, Smoking |
| Weight | 35 pounds |
| Dimensions | 32 x 9 x 17 inches |
Fogo is another blend of hardwoods from Central America that I highly recommend due to its slew of qualities. The scent from Fogo Super Premium Oak Lump makes it the best lump charcoal for smoking. Its scent is strong enough to provide a pleasant smoky flavor to your barbeque. Fogo also burns at high temperatures and gives good heat for a long time.
Ideal for Cooking
Each bag of Fogo charcoal offers easy-to-light-up lumps, which will be good in temperature and extend the cooking time. You can use them for large cooking equipment like Kamado grills, smokers, etc., due to their higher temperature; you can use them for reverse-searing steak and other recipes.
All Natural Wood
FOGO charcoals are based only on the natural tropical woods, and you can trust that there are no chemicals and additives in this bag of lump charcoal. Although there are no unnatural products used in them, they still light up. There is no need to use any harsh fluid to grill up. This lump charcoal will be ready after 5 minutes of lighting FOGO. After this, you can be ready to taste the rich smoky flavored meat.
Zero Waste
You may see a significant amount of waste and dust in the other lump charcoals, but in FOGO, you will get only large and medium-sized pieces. I have used 35 pounds bag for Fogo lump charcoal reviews. They will also burn at higher temperatures without sparking for long periods. 
Eco Friendly
The manufacturers claim they are eco-friendly, not getting from the living trees to protect our plants and forests. So, we can believe that they are environmentally friendly as they are not a danger to our natural resources.
Larger Charcoal Chunks
It is good to use them cooking with Kamados, and no doubt Kamados Joes Lump Charcoal leads to good quality. You can use them multiple times by re-igniting them, beneficial for regular cooking.  
Benefits:
The lumps are relatively easy to light and smoke
It can bear long hours of heating.
The burning time is long and suite for outdoor gatherings.
The sparking issue is very minimal.
Drawbacks:
The lump size is not uniform.
It takes a while to reach full temperature.
3) Kamado Joe Big Block Lump Charcoal
| Specification | Featured Values |
| --- | --- |
| Brand | Kamado Joe |
| Flavor | Guayacan, Guayaibi, Mistal, and White Quebracho |
| Best for | Grilling, Smoking |
| Weight | 20 pounds |
| Dimensions | 14 x 4 x 30 inches |
I can say that Kamado Joe is the best lump charcoal for Kamado, just like the Jealous Devil, because they also come from the South American "ax breaker" hardwoods. This dense wood will burn for a long time and provide a good temperature, and the other benefit is that you can use them two to three times.
Quality Charcoal
It is easy to find them and Kamado Joe is also good for using kamados grills. There is a great quality to use them several times for your cooking, and the regular users will feel it like a blessing.
Natural Wood Selection
I recommend these lump charcoals due to their large chunks and great ability to burn them. They will give you the maximum temperature for cooking. They are originated from Argentina namely Guayacan, Guayaibi, mistal, and white Quebracho. All of these woods are unique in qualities.
Extra Burn Time
The larger lump of charcoal will burn longer and hotter than the smaller chunks. If we talk about Kamado Joe, which takes the things at a notch due to their extra-large lumps, they become the best lumps for use in Kamado grills.
They burn at 750F, and this temperature is low compared to the other lump charcoals on our list. But this is more than enough for searing steak and any cooking.
Quality Aroma for Cooking
Like the Jealous Devil charcoal, Argentinean hardwood also adds a mild flavor of smoke to your food. This smoky flavor will not overwhelm the natural taste of your food. But at the same time, you will notice something extra to the BBQ's usual taste.
Benefits:
It is easier to put fire and get high-temperature cooking.
Clean and long-burning enable it for healthier barbeque.
The food flavor is amazing due to the mild aroma.
Extra-large lumps are usable for a second round.
Drawbacks:
Some pieces are quite large for cooking
Low burning temperature than other choices.
4) Cowboy Lump Charcoal Hardwood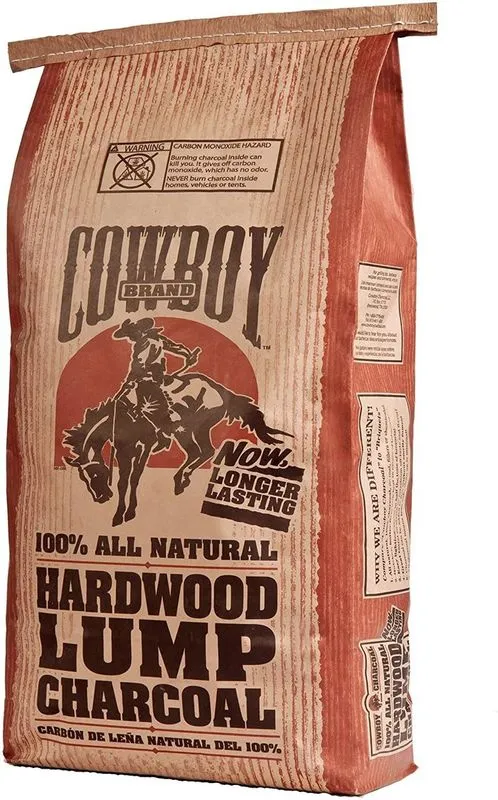 | Specs | Featured Values |
| --- | --- |
| Brand | Cowboy |
| Flavor | Natural Hardwood |
| Best for | Grilling, Smoking |
| Weight | 20.4 pounds |
| Dimensions | 14.25 x 5.75 x 30 inches |
For environment-conscious people, Cowboy Hardwood lump charcoals are perfect as their source is sustainable natural hardwood. They are also a blend of oak, hickory, and maple that will give a smoky aroma and surely tie with your roasting beef. It is also natural, and you will not notice any unpleasant chemical quality in your food. No doubt this is one of the best charcoals this year.
High-Quality Charcoal
There is no special quality in this high-quality cowboy lump charcoal bag. However, most people associate its flavor with an evenly blended southern barbeque with the taste of your meat. It is also good to know that they are available at a good price and in different sizes of bags, so you have the choice to pick them up according to your need.
Pleasant Barbeque Flavor
The bag of this lump charcoal is a mix of oak, hickory, and maple woods. They provide the flavor to suit every type of barbeque. They will give sweet and delicate flavors to your meat, burgers, and chicken with a tempting aroma.
Free from Additives
Like the other natural charcoals, this is also away from unnatural substances. Only the mix of natural woods will give you a long time and clean burning. It will also be good to know that the blend of all woods will not create an intense impact on your food, and you will have the meat's natural flavor.
A good Value for Money
The quality of this lump charcoal is great, although it is not sourced from dense Quebracho wood. But you will get in your bag reusability, efficiency, and long-lasting power of burning that will enrich flavors.
Benefits:
It is an environmentally friendly and sustainable choice.
The lumps offer classic barbeque flavor.
They offer excellent value for money.
It works well with almost every kind of barbeque.
Drawbacks:
The lumps are too pricey.
It misses the flavor of Quebracho wood
5) Rockwood All-Natural Hardwood Best Lump Charcoal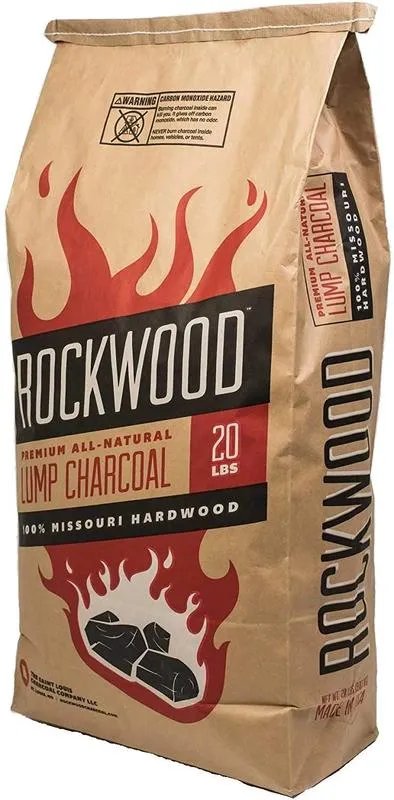 | Specification | Values |
| --- | --- |
| Brand | Rockwood |
| Flavor | Pecan, Hickory, Maple |
| Best for | Grilling, Smoking |
| Weight | 20 pounds |
| Dimensions | 7 x 15 x 28 inches |
Rockwood lump charcoal comes from Missouri and has different wood combinations like oak, hickory, pecan, and maple. I like the blend of these woods as they produce mild smoke that does not overpower the food. It is harder to light this lump of charcoal than the others, but they burn for a long time once they start and provide a good amount of heat.
Amazing Blend of Hardwood
This amazing Rockwood comes with a blend of pecan, maple, hickory, and oak, and no doubt, they are higher in quality. All of these woods have their instinctive taste, and the choice of wood will give you a very flavorful food.
Extreme Burn Time
I have experienced a long burn time from the Rockwood All-Natural Hardwood Best Lump charcoal, as it can burn for 24 hours up to 900F. This temperature is more than enough for cooking your searing and juicy meat perfectly. Due to low smoke output, they would not infuse much smokey flavor into your food. However, I often use sawdust or chips to give additional flavor.
Free from Chemicals
As we know, lump charcoal comes naturally, so they are free from any additives, chemicals, or fillers. Moreover, this charcoal burns cleaner with a little amount of ash, and it is also important to know that they are best for all types of charcoal smokers and grills.
The source of lump charcoal is leftover lumber mills and other recyclable wood materials like old flooring and furniture. They are environmentally friendly, and the bag is also recyclable.
Minimum Trash
Rockwood Charcoal burns hot, but it is not as quick to burn out, and you may need time to light it up. You can use them for Big Green Eggs, Kamados, and many other grills. They equally work for all types of grills or smokers. It is also very easy to dispose of due to its environmentally friendly nature. They produce a small amount of ash, and they are landfill safe and safe in burning their paper bag are also recyclable.
Benefits:
It burns effectively without many ash residues.
Due to the no artificial chemicals, it provides natural cooking.
The versatility allows it to use with various grills and smokers.
It has a long burning time for extended cooking sessions.
The wood is rich in aroma.
Drawbacks:
It sometimes feels sparky due to its nature.
Due to natural ingredients, the lump size seems inconsistent.
6) Best of the West Masters Selection Charcoal for Outdoor Cooking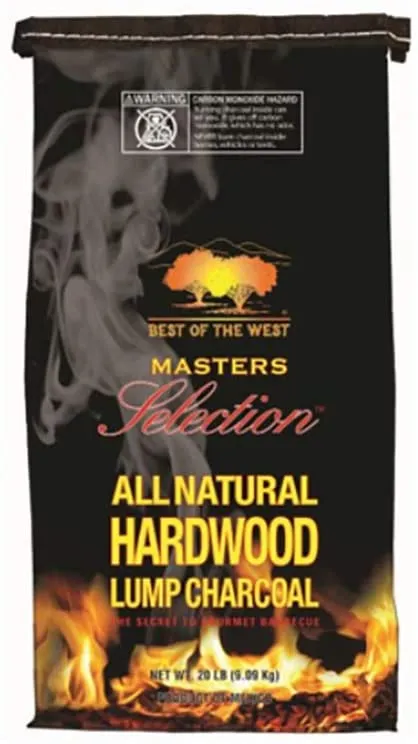 | Specs | Values |
| --- | --- |
| Brand | Best of the West |
| Flavor | Natural Hardwood |
| Best for | Grilling, Smoking, Outdoor Cooking |
| Weight | 20 pounds |
| Dimensions | 27 x 15.50 x 2.50 inches |
If we talk about the top-rated product of this year among all of the Harwood lumps, West Master Selection is at the top. There is no need to pay a lot for high-performance charcoals. West Master charcoal for outdoor cooking will add the same smoke flavor at a reasonable price. It undoubtedly proves the best package for you in terms of all qualities.
Naturally Sourced Charcoal
The best thing about this is that you will get this package in this price range without additives and preservatives. They are also useable for the chimney starter and smoker and best for traditional charcoal grills, giving you juicy and tender pieces of meat.
Ideal Cooking Source
They are a good source of heat and burn at a high temperature. It is ideal for cooking and grilling your food. Best of the west charcoal provides you with enough heat than the other briquettes in the market.
Slow Burning Process
I have tested the Best of the West coals set because they are known to burn slowly and give off a lot of heat over an extended period. This bag has a lot of smaller pieces that start burning almost immediately but also contains larger pieces.
Once the small pieces burn, they leave behind the larger pieces that glow much longer and stay hot for several hours if you don't snuff them out by blowing them out or covering the bowl with ash.
Benefits:
It is a highly affordable choice for lump charcoal.
Ash production is minimum.
High-quality packaging ensures safe storage.
It is quite easy to light and use.
Drawbacks:
The lump size is not uniform.
7) Big Green Egg Oak and Hickory Lump Charcoal for Grilling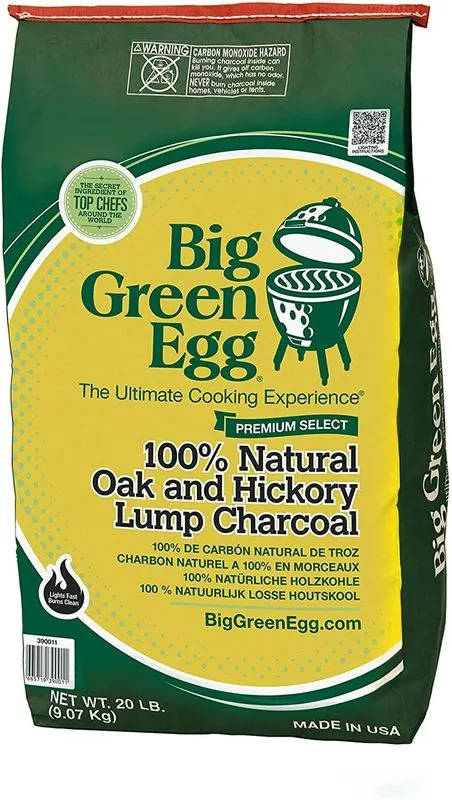 | Specification | Values |
| --- | --- |
| Brand | Big Green Egg |
| Flavor | Oak, Hickory |
| Best for | Grilling, Cooking |
| Weight | 20 pounds |
| Dimensions | 17.32 x 7.09 x 29.92 inches |
Without a doubt, Big Green Egg Oak is the best lump charcoal for grilling. I have used it for outdoor barbeque party with my family, and it provided burn for a long time and are the best natural lump charcoal. It offered me 24 hours of low and slow cooking for perfectly balanced smoky food. The blend of oak and hickory without additives, filler, or chemicals is ideal for cooking with the Kamado Big Green Egg.
Natural and Eco Friendly
The best lump charcoal for Big Green Egg is not only made from natural material but also ensures that the wood is no additives and chemicals used in them. It is also good to say that they contain 100% of natural American oak. Moreover, it is more eco-friendly charcoal than the others on this list in terms of Big Green.
Due to the absence of chemicals, it becomes difficult to burn them, and sometimes it looks like a challenge. It will also need more time to get the right temperature required for your cooking. It is the best trade of lump charcoal for the price, which gives you a clean, powerful, and healthy supply of fuel.
Minimized Leftover
There is no doubt that this is the best wood-like Big Green Egg model from manufacturers. It comprises hot hickory and oak burn and minimizes the leftover ash level. That's why it is considered the clean fuel in the world.
Maintained Quality Standards
As we know that they don't contain any unnatural ingredients like filler, petroleum products, and nitrates and due this makes a stander for quality. It burns better than the other many charcoals in this list I have tried. Due to burring at low temperature, which is necessary for smoking, it is the best pick all the time for flavoring your food.
Benefits:
It offers quite a long burning time for various cooking drills.
There is no additional chemical and filters in the lumps.
It is easy to clean due to fewer ash residues.
It takes less time to heat and gets quickly to cooking temperature.
The burning power is better than many competitors.
Drawback:
It feels a little pricey.
8) Harder Charcoal HAXLWC33 Barbeque Grilling Lump Charcoal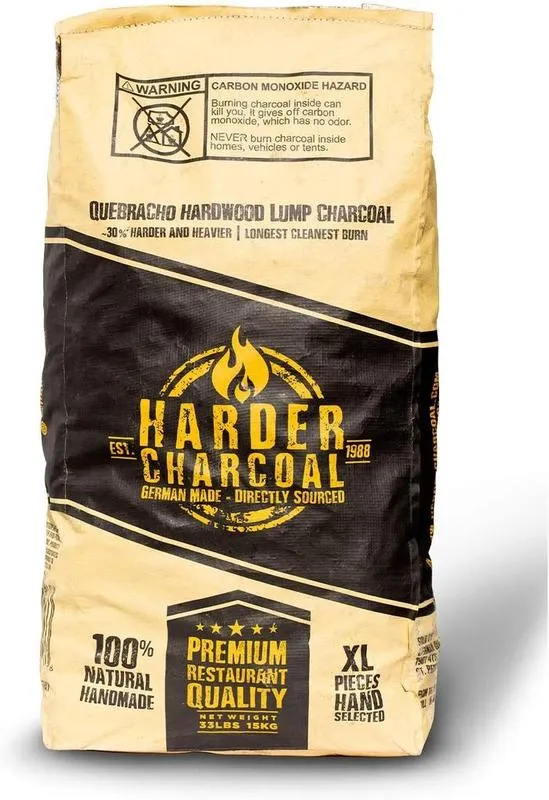 | Specs | values |
| --- | --- |
| Brand | Harder Charcoal |
| Flavor | Quebracho Wood |
| Best for | Barbeque, Grilling |
| Weight | 33 pounds |
For me, the consistent burning of lump charcoal is necessary for the correct working of Kamado grills. So, it is important to prefer the charcoal with consistent burning, just like the Harder Natural Lump Charcoal from South American woods. They burn for a long time and evenly make consistent burnings required for Kamado grills.
Extreme Burning Power
They consist of the Quebracho, known for its hardness that burns at 1000 degrees with little ash. They also come from a reliable source without harvesting or damaging the trees and forest.
Reusable Lumps
Harder Charcoal is dense, and you can reuse them. They will also give you a pleasant smoky flavor necessary for barbeque. Quebracho wood is preferable for reasons like it is hotter, burns for a long time, and is reusable more than 2 to 3 times. That's why they are budget-friendly and effective.
Larger Lump Pieces
However, the size of these lump charcoal is larger than the others, and they may be up to 6 inches long or in diameter. You can break them into small pieces if you have a small grill. This Harder Charcoal comes in 33-pounds eco-friendly bags. 
Ideal for all grills
Harder Charcoal is the best lump charcoal for grilling. They will be perfect for Kamado grills like Big Green Egg, Kamado Joe, and other grills that can retain heat for low and slow cooking bearing the high heat and searing.
Quality at a Reasonable Price
No doubt the quality of this charcoal is outstanding, and there is no compromise on it; their dense lumps are cut into larger pieces but are not too wide chunks. You will get this good-sized bag at a very reasonable price, and the other benefit is that they are reusable. They are not low in price, but they are very reasonable compared to the other charcoals of the same quality.
Benefits:
The source of wood is sustainable.
Lump pieces are larger for better cooking.
It is an excellent choice for cooking and smoking.
The absence of chemicals provides it with many health benefits.
Drawbacks:
Larger lumps can have an issue while breaking.
It can show spark issues.
9) Royal Oak Lump Charcoal Premium Hardwood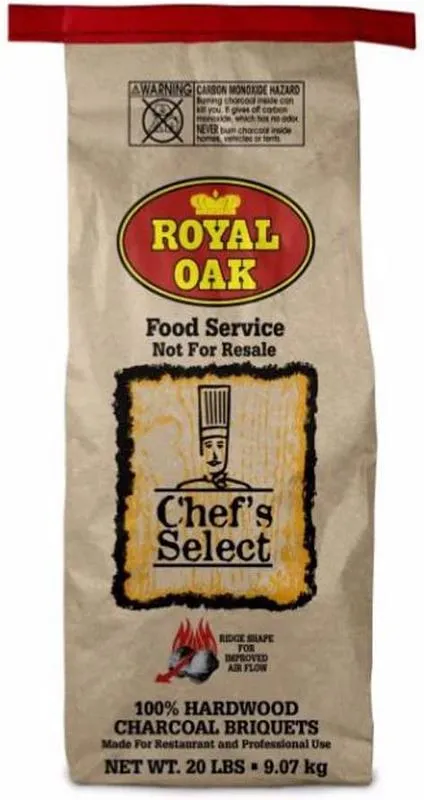 | Specification | Featured Values |
| --- | --- |
| Brand | Royal Oak |
| Flavor | Oak, Hickory |
| Best for | Grilling, Smoking |
| Weight | 20 pounds |
Royal Premium Hardwood is a blend of oak, hickory, walnut, and maple and burns well and for a long time. I had used it on several occasions when I wanted to get the rich flavor from the barbeque. It always provided the food with a rich smoky flavor and fulfilled my expectations.
Quality and Performance
When it comes to the quality and performance of the best lump charcoal, the Royal Oak lump charcoal review will not disappoint you. They also get from only natural sources of Oak and Hickory from American wood, so there is no need to worry about the harmful chemicals. These lumps are very versatile also, as you can use them for low and high-temperature cooking in your traditional methods of grilling and smokers.
Minimum Cleaning Hassle
As they produce little ash and burn clean, it is easy to clean up the whole mess without difficulty. You can easily dispose of them. Moreover, these chunks will reach the required temperature very fast, and you will need not wait to start your barbeque.
Renewable Wood Selection
The Royal Oak is a natural selection of renewable woods that are a plus point for being environmentally friendly. In each bag of lump charcoal, even sizes of chunks are available with little dust and fragments. It is also easy to light them, and they will burn for a long time. Like the other lump charcoals, they also produce a small amount of bearable ash.
Good Value for Money
However, the chunk size may not be consistent, and you will get many useable pieces in a bag. But at the same time, they are a little bit expensive for an 8.8-pound bag. You will save a lot, and this price may prove good.
Benefits:
Burning is clean due to little ash residues.
The lighting up and burning process is easy.
Cooking temperatures are high.
Natural lump flavor increases the cooking quality.
Drawbacks:
The chunk size is uneven due to naturally sourced wood.
10) B&B Lump Charcoal Natural Oak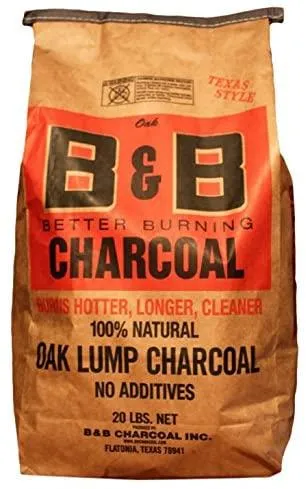 | Specification | Values |
| --- | --- |
| Brand | B&B Charcoal |
| Flavor | Oak |
| Best for | Grilling, Barbeque |
| Weight | 20 pounds |
| Dimensions | 12.5 x 8 x 27.5 inches |
If you want to achieve the best smoky flavor in your food, I recommend Texas-style B&B Charcoal. It is purely made from oak and gives you a perfect amount of flavor without overpowering the taste of your rum or skewers of grilled shrimp.
All-Day Long Smoking
Their dense quality gives them the best and long time for burning. These large sizes of B&B pieces will make sure that you will not need any reloading charcoals during all-day smoking exertions. They come in 20 pounds of charcoal bags. Burning feels inconsistent occasionally.
Natural Flavor
B&B claims that they do not include any additives in the making of these charcoals. So, you will not get any artificial flavor instead of wood. The 100 % natural creation procedure makes them eco-friendly and provides you the natural flavors.
Consistent Quality
The quality of B&B lump charcoal is very consistent, and you will not see any dust and waste material in the bag of chunks. They come in large sizes and produce great heat to cook your food evenly. Most of the reviewers agree about their consistent quality, but at the same time, most of them denied that. You will try them to give your review.
Minimum Leftovers
The natural lumps of the B&B charcoal provide almost no residues compare to the other lumps available at a low price. The high-quality large lumps not only provide quality heat, but you don't get any extra residues. If you want to cook and smoke the barbeque on Kamado, there is no better option than B&B lump charcoals due to fewer residues.
Benefits:
Longer burning time offers extended sessions of cooking.
It is readily available in packs.
The natural and rich flavor adds to the barbeque taste.
It is free from additives, so you don't have to think about health concerns.
Drawbacks:
The lump size is inconsistent.
Sometimes the flavor becomes rich beyond normal.
Buying Guide for the Best Lump Charcoal
It is important to give the first preference to the quality of the product and keep in mind not to pick up the old bag of the best lump charcoal. Various things should remain under consideration while buying lump charcoal, such as the size of the lump, flavor, and burning temperature.
Size of Lump:
The size of the lump of charcoal is the main factor, and it may become a challenge to pick up the right size. If we talk about the charcoal briquettes, they are uniform in size and shape in a bag. But on the other hand, the lump charcoal has different sizes and shapes, and sometimes it becomes difficult to make a layer on the grill. So, the right size may give you ease during grilling.
However, in a bag of lump charcoal, you will see the size from 1 inch to 4 inches, and the various medium-size pieces may also include in a bag. These small pieces in the bag will be more consistent in burning instead of larger ones. But the higher quality lumps are well-sorted and may contain a regular size in the bag. Moreover, in the bag of lump charcoal, you may also have all the minimum amount of waste, with no ash, dust, and other material that will not use in any way.
Burning Temperature:
Most barbeque masters pick up the lump charcoal as they tend towards a higher temperature than the briquettes. Due to the burning temperature, you will get a hard crust and sear on your burgers, steak, and chicken, adding extra flavor to your food.
The maximum burning temperature of charcoal briquettes is about 800F, but the lump charcoal reaches a temperature of up to 1400 degrees.
Furthermore, the charcoal lumps are more responsive to the oxygen levels in the air, and you can control the temperature easily by using the vents in the grill. But the briquettes are not so responsive, and it may take time to control their temperature.
Flavor:
The other reason for choosing the lower lump charcoal instead of briquettes is the flavor. You have a lot of choices for flavor in lump charcoals. Various kinds of wood are used, like hickory, maple, cherry, oak, and walnut.
All these woods will have an extinct impact on the flavor of your barbeque. But at the same time, the charcoal briquettes will give only one impact of flavor on your food, and they are also devoid of chemical additives, and that's why your meat may also give a chemical taste.
If you choose mild wood like apple, bamboo, and alder will give you delicate flavor, and they are the best lump charcoal for one. At the same time, oak and cheery give a medium flavor to your food and are good for pork, beef, and poultry.
Quality of Lump:
The quality of lump charcoal depends on the brands you want to buy. Quality matter a lot. If you buy low-quality lumps, they will be small, burn too quickly, and fall from their grates. But the high-quality lumps will not contain any waste, and they are well sorted.
You will get softball-size pieces in a quality bag of charcoal lumps, and you will not face any difficulty arranging them in your barbeque grill. These lumps also burn for a long time of periods and your food can cook easily and evenly.
Lump Source:
There are various sources of lump wood lump charcoals. We can get them from wood scrap, furniture makes, and building materials, including old flooring. However, if any chemical procedure makes these charcoal lumps, you may face difficulty controlling them while burning.
The best lump charcoal starter is also a byproduct of lumber mills, and that's why you may also find pieces of metal rope and even plastics in them. But if you buy the quality lumps, they will make sure to avoid these things in the bag and sort all these waste materials from the bag.
Which lump of charcoal burns the longest?
The best choice is Rockwood lump charcoal if you want to get the longest burning period. They seem to burn forever and also create a little amount of ash. However, it is more difficult to burn than the other products. But they produce a good amount of mild smoke necessary for the smoky flavor in your food. They are a good choice for your money.
Is charcoal or lump charcoal better?
All kinds of charcoal come from wood burned with a small amount of oxygen, which will leave carbon. But makers claim that they are environmentally friendly and call them superior due to their purity. They contain no additives, just like the other briquettes on other fluids light at once.
Does lump charcoal taste better?
Lump charcoal is easily controllable due to its responsive habit towards oxygen. You can easily control it with the vents and chimneys of your grill. So, you can adjust the temperature, and as a result, your food will not burn and taste better and cook evenly from all sides.
How to make lump charcoal?
The best way to light up your charcoal is by the charcoal chimney starter. Fill your chimney with newspaper, pour the charcoal, and light the newspapers. When they start burning, you can transfer them to your grill. But be careful in this whole process to avoid any accident.